If you're a Singaporean living in the North-East, you may be familiar with Jalan Kayu and its stretch of famous prata joints.
Apart from being known as a late-night spot for prata cravings, Jalan Kayu also houses several other gastronomic haunts – one of them being Jerry's BBQ and Grill. Located just 2 mins away from the bus stop, Jerry's BBQ and Grill is known for their delectable American fare.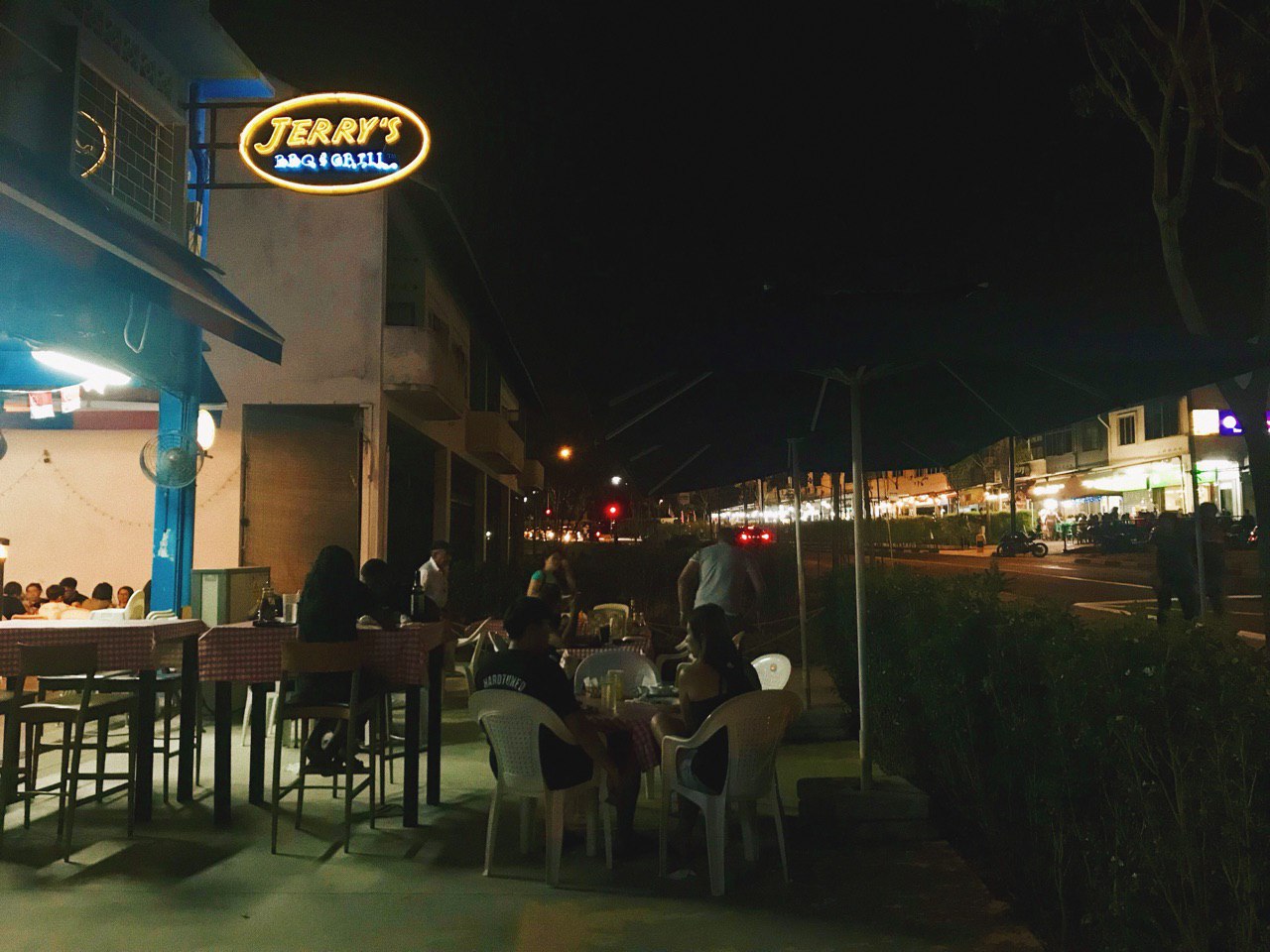 The interior of the restaurant is reminiscent of an old school American diner, with wooden furniture, checkered table covers and a no-frills bar counter which houses a selection of house pour liquors.
Diners may choose to sit inside the restaurant, or opt for alfresco dining at the outdoor seating area. During the later hours of the evening, the outdoor dining area at Jerry's is the perfect place to kick back and relax with a cold beer in hand, plus generous servings of all-American delights.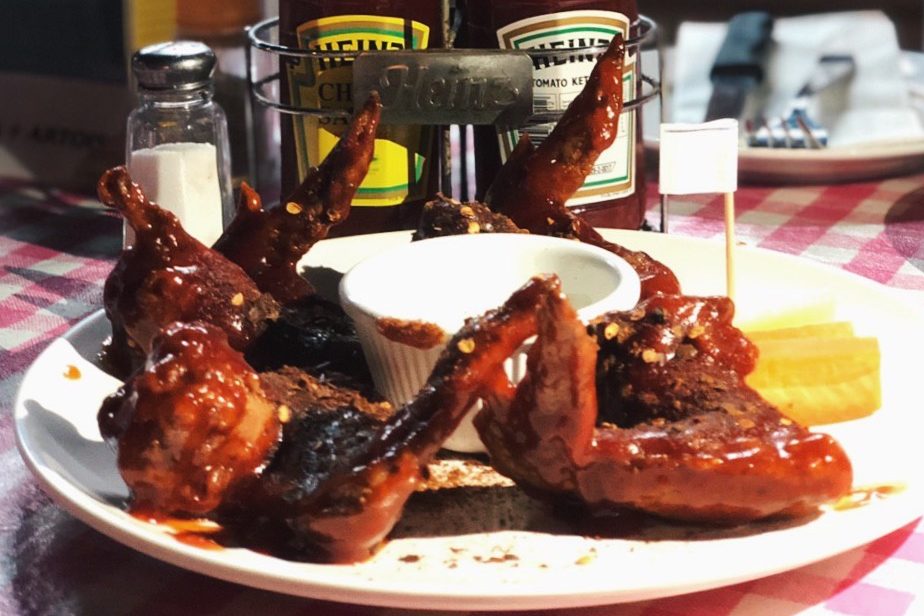 Of course, our dinner at Jerry's BBQ and had to begin with their best-selling wings. Available in varying degrees of spiciness, the wings come in portions of 4 or 6 wings. Interestingly, the prices are determined by the level of spice, meaning that the fiery Level 6 wings set you back at least $2 more than their milder counterparts.
We decided not to be overly ambitious and opted for the Level 3 Fire-Plus ($7.95), which already set fire to my tastebuds and had my stomach churning like a fully-loaded washing machine shortly after.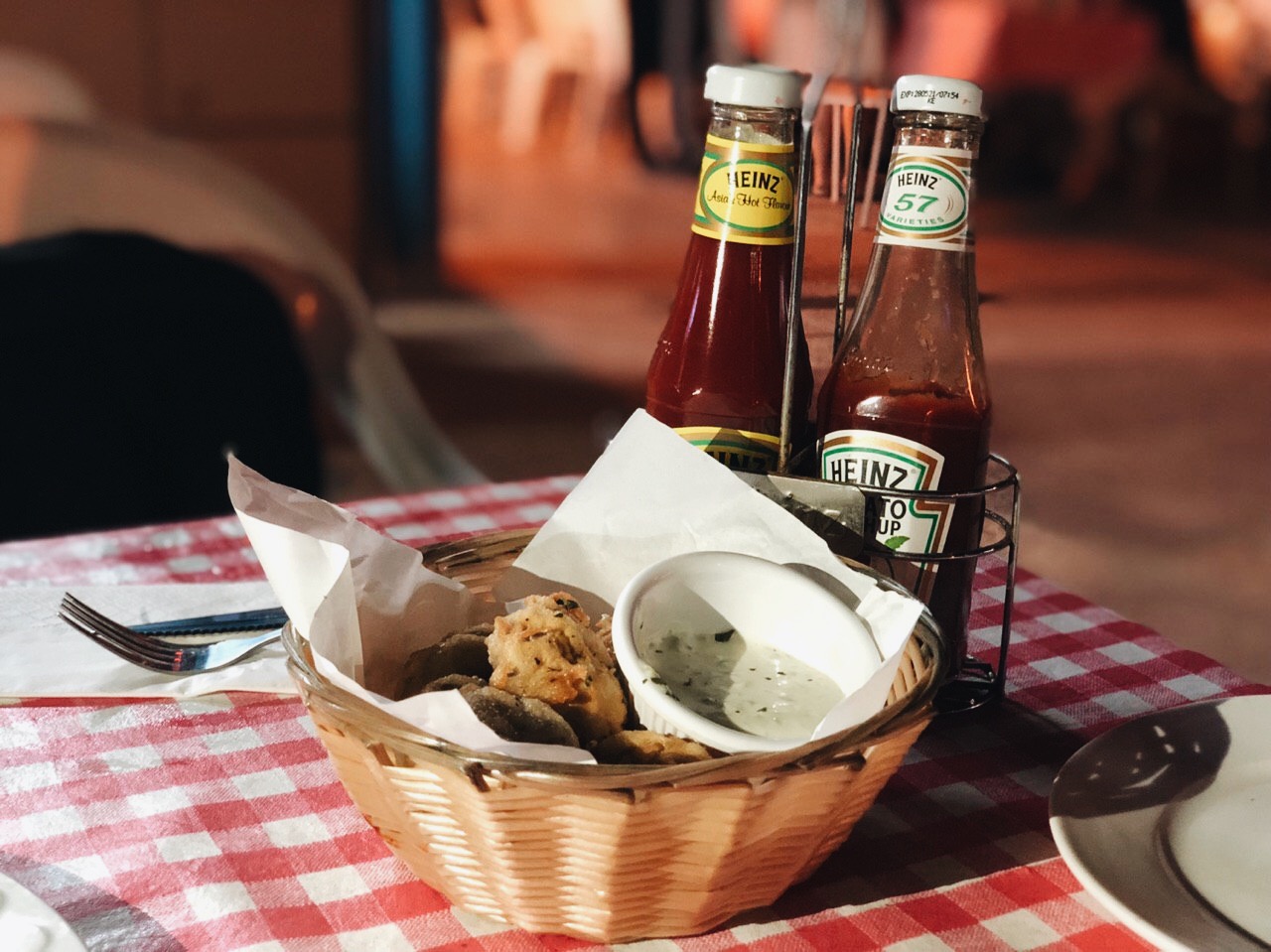 For the second appetiser of our meal, we ordered the Deep Fried Mushrooms ($7.95 2 pax serving). These were button mushrooms encased within crispy batter, and served with tartar sauce. Take one bite and you'll find that its crispy, crunchy shell gives way to a warm, slightly velvety texture. The tartar sauce complemented the taste of the mushrooms perfectly, and its safe to say our palates were primed to enjoy the rest of our meal.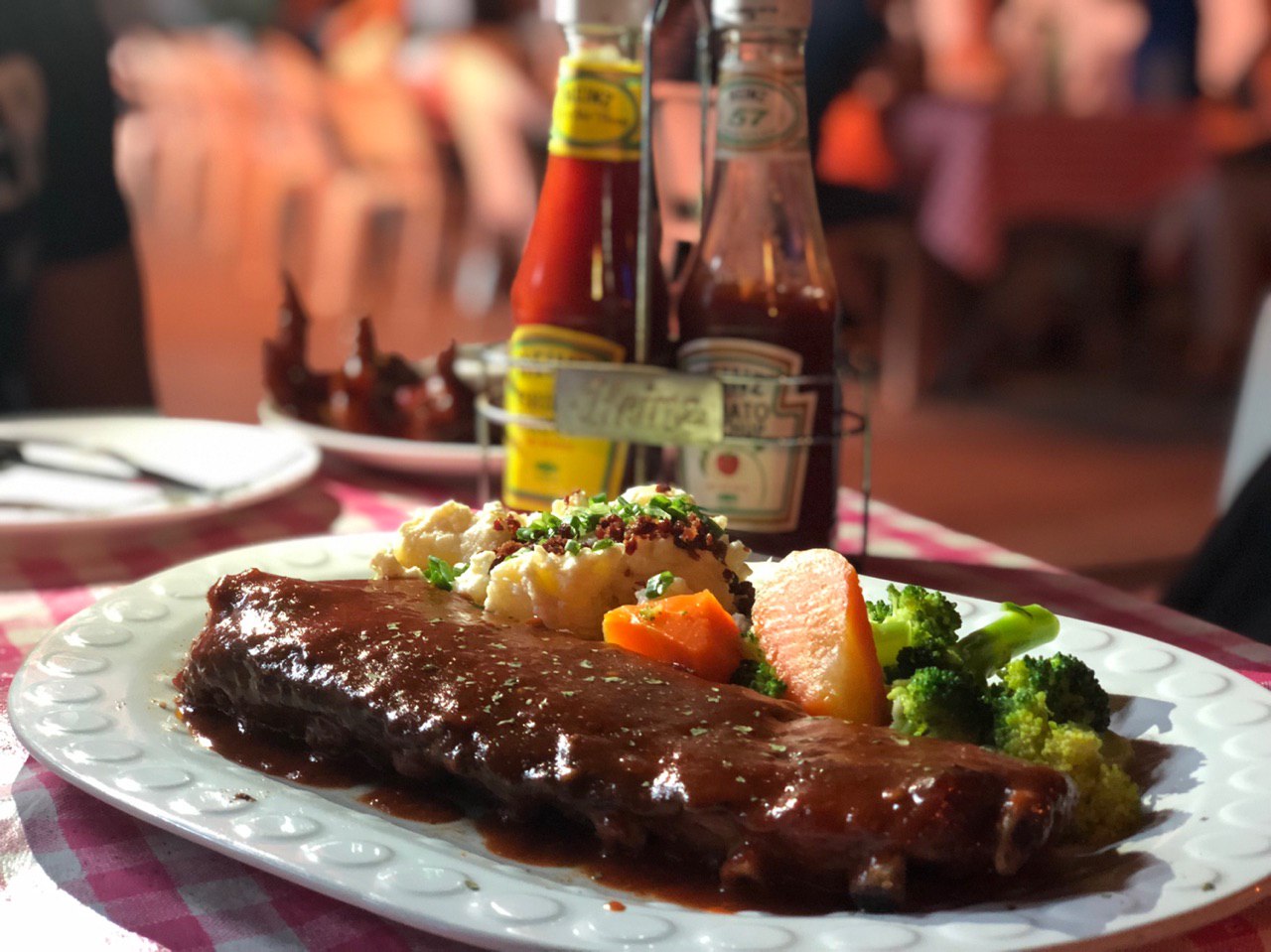 Our main course comprised of a half-slab of BBQ Baby Back RIbs ($24.95) and one American Beef Burger with Sauteed Mushrooms ($21.95).
The moment we sank our chompers into the ribs, we could understand why the ribs qualified as one of their crowd favourites. We barely had to slice through the flesh; the meat fell effortlessly off the bones, and was generously ladled with house-made BBQ sauce. The BBQ sauce was of a thick consistency and did well in offering just the right amount of sweetness and smokiness. 
The ribs were served with a choice of two sides — we went for the potato salad and steamed vegetables, and they did not disappoint.
The crunchy stems of the steamed broccoli paired well with the tender texture of the BBQ ribs. Jerry's house potato salad also came generously garnished with bacon bits and spring onions, adding robustness to the overall flavour of the dish.
Could Jerry's really pride themselves on serving up authentic American fare if they didn't do burgers well? There was only really one way to find out.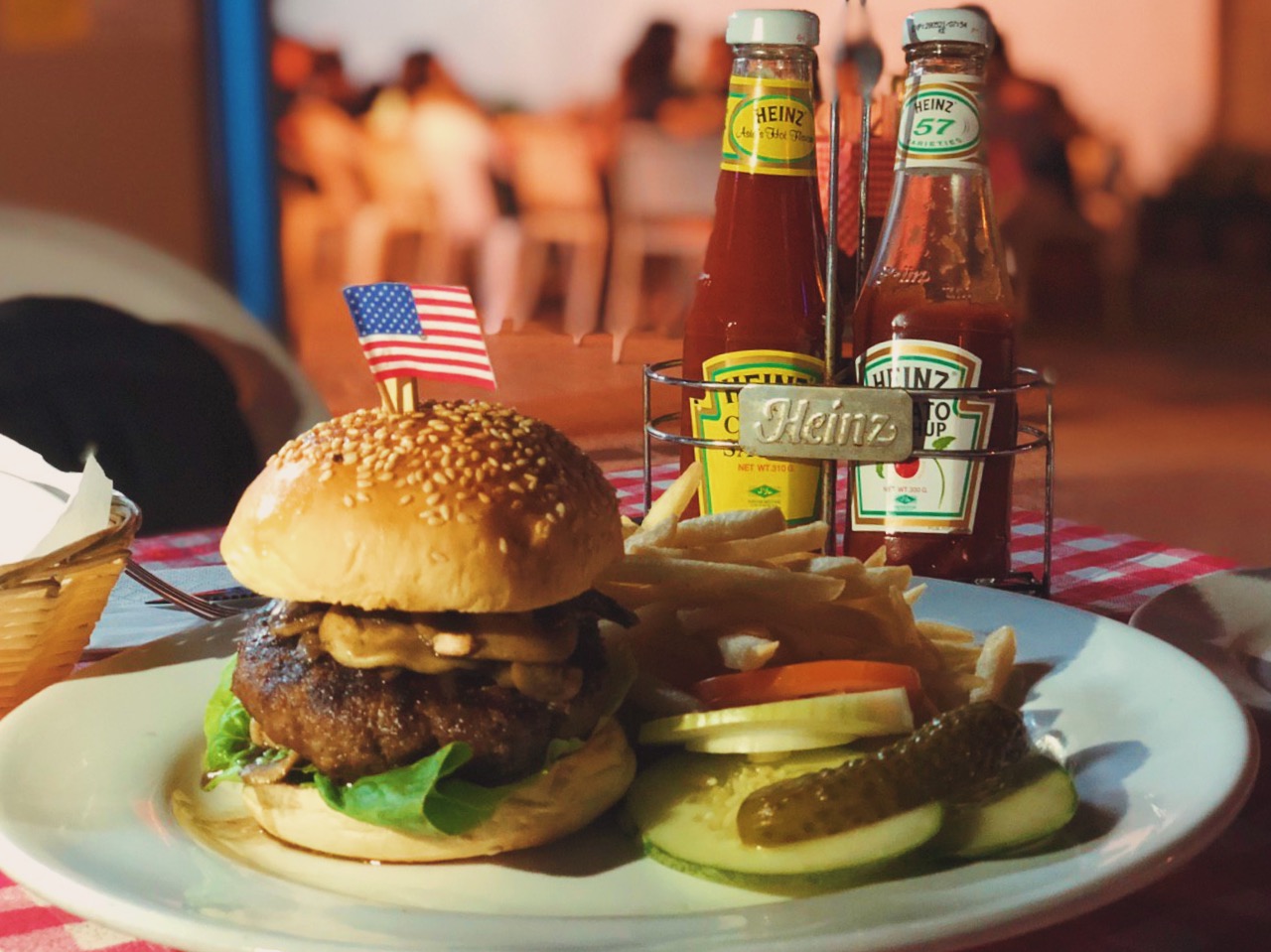 Jerry's USDA Beef Burger featured a generous portion of USDA ground beef imported and graded by the United States Department of Agriculture (USDA). We appreciated the hearty and honest nature of the dish — no fillers (only real meat), and flame-grilled to perfection. 
The patty was juicy and tender, and when served with sauteed mushrooms, was savoury goodness indeed. Their rendition of an American beef burger really won our vote as one of the better burgers around the island, as the meat was succulent and flavourful despite not being drenched in various sauces and seasonings.
Overall, Jerry's BBQ and Grill provided a very authentically-American dining experience. From its checkered tablecloth-clad wooden tables to its laidback atmosphere reminiscent of suburban American diners and true American flavours, this is a good place to bring friends for steak, ribs, burgers and more.
If you're thinking of having chill drinks, Jerry's also offers attractive happy hour prices, starting at just $6.
Indulge in appetising American fare at Jerry's BBQ and Grill!
Download the FlexRewards app to enjoy off any main course purchased before 4pm from Mondays to Saturdays, valid till 15 November 2019. This is one great deal not to be missed!
Do note that tables must be surrendered before 4.30PM
Reward valid till 15 Nov 2019.
---
Details
Address:
277 Jalan Kayu, Singapore 799505
Opening Hours:
Mon to Sun 12pm – 10pm
Website:
www.jerrybbq.com
Price Range:
$20-$35