Stepping into Enjoy Eating House & Bar is like taking a nostalgic tumble into 1970s Singapore. Tucked within Kam Leng Hotel along the colourful Jalan Besar Road, this resto-bar is decked out in old coffee shop style and serves up a homely array of Singaporean comfort dishes.
The interior is cosy and full of playful retro details, such as olden-day advertisements and Peranakan tiles. Oldies Chinese music crooning in the background completes this mellow vintage vibe.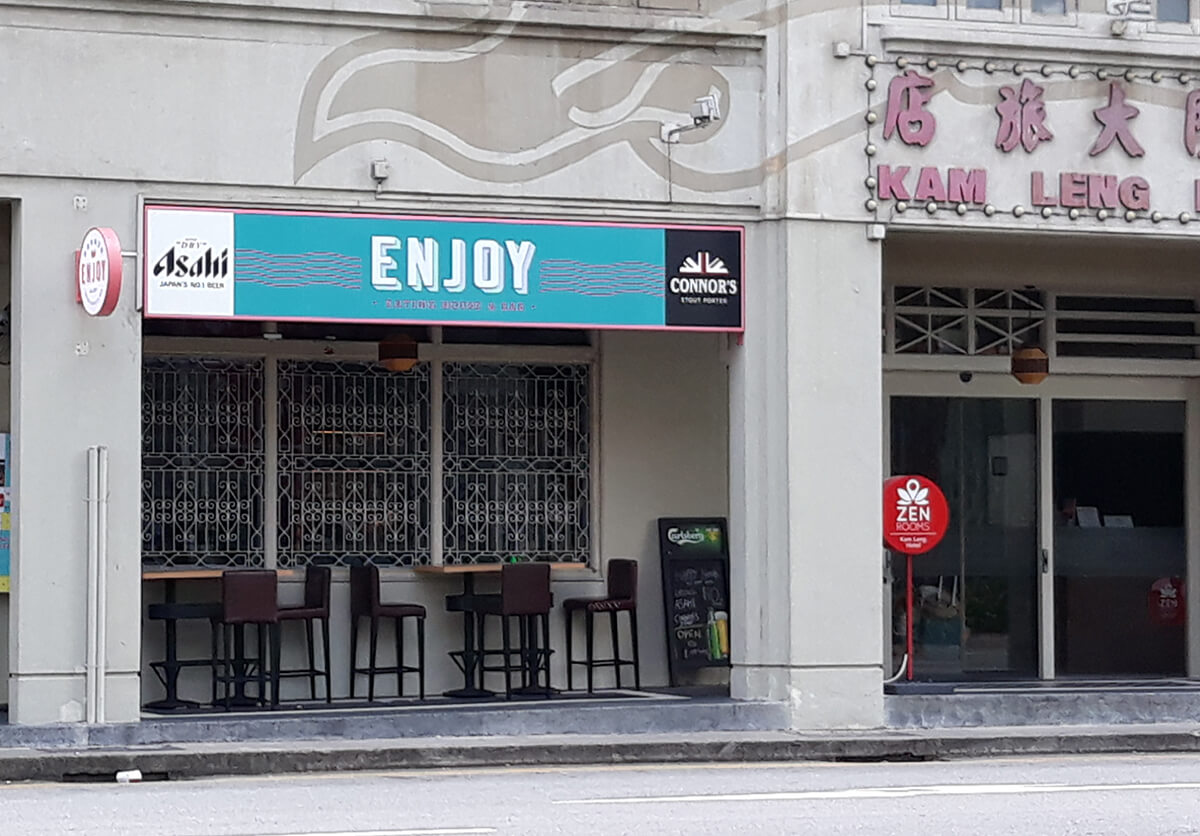 Enjoy Eating House & Bar is Chef Joel Ong's labour of love, a rediscovery of his Singaporean culinary heritage. Some of you might remember Rochor Thai, the now-defunct Rochor Centre Thai eatery which Chef Joel used to head. His latest venture, however, is all about familiar local flavours, drawing inspiration from his late grandma's recipes.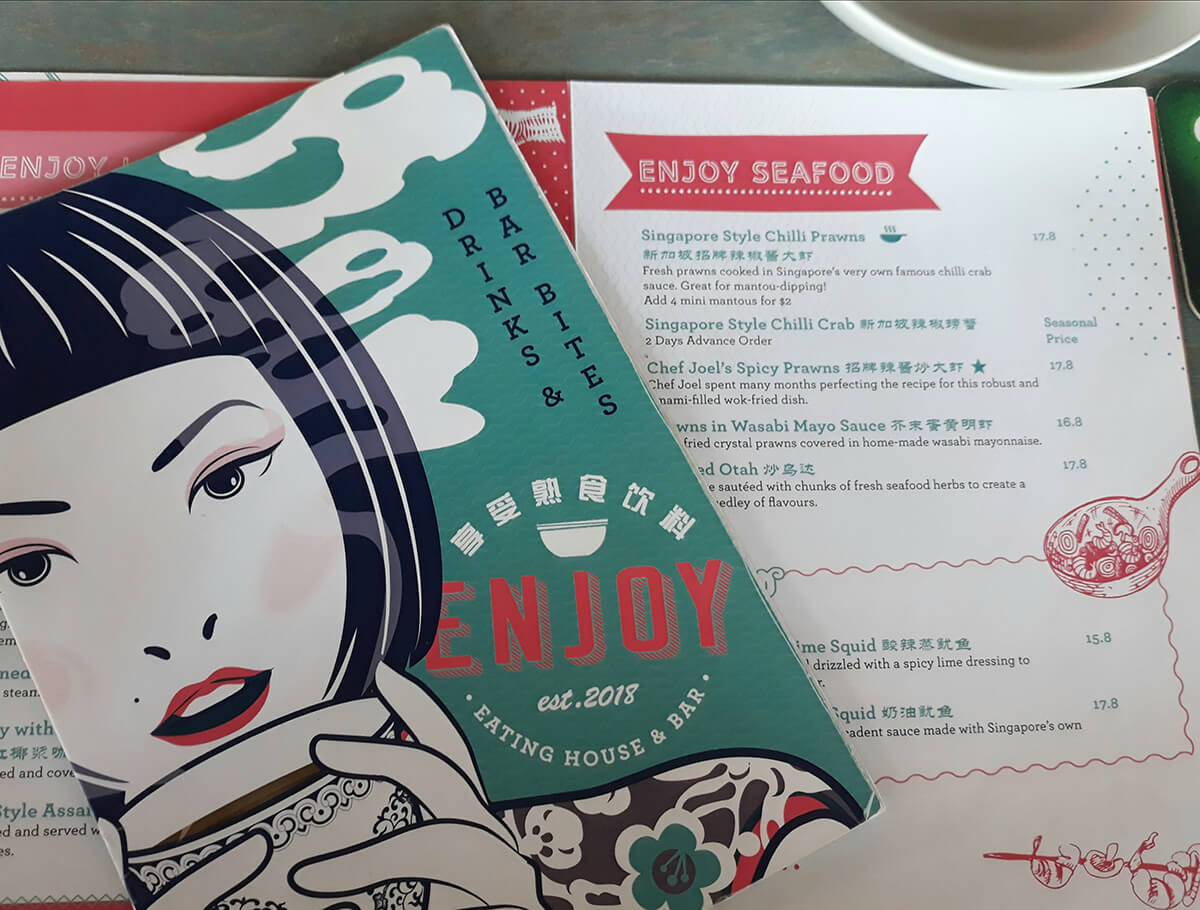 The menu reads like an all-star lineup of traditional dishes – think Grandma's "Te Kah" Bee Hoon ($11.80), Singapore Style Chili Prawns ($17.80), and Teochew Fish Maw Soup ($10.80).
But Chef Joel also pays tribute to his Thai culinary past with dishes like Green Papaya Salad ($7.80) and Clear Seafood Tom Yam ($10.80). What's more, surprise dashes of Western influence are stirred in, such as the Sous Vide Truffle Egg ($1.50) and the Chendol Panna Cotta ($6.80).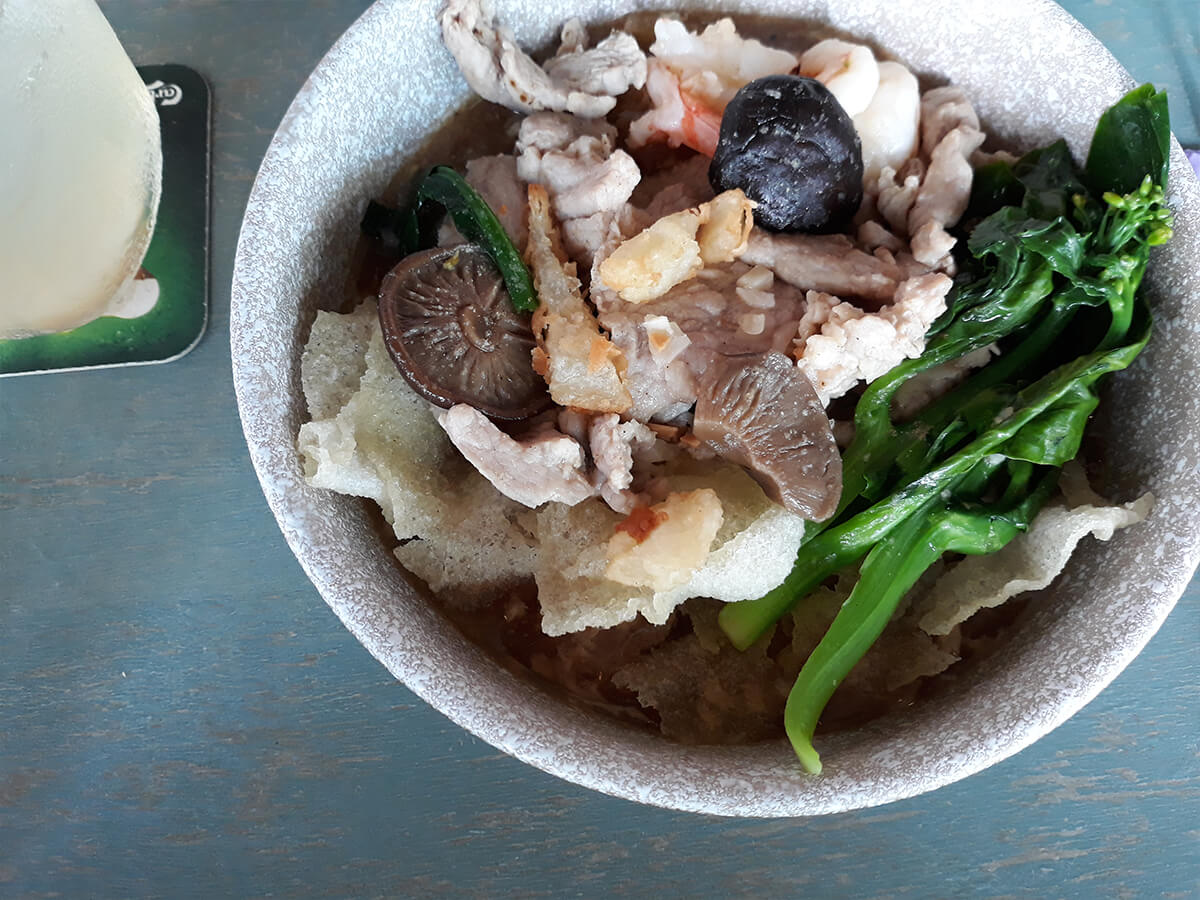 For the main dish, I went with a classic zi char dish – Silky Egg Crispy Hor Fun ($11.80).
Unlike the usual soft rice noodles, this fried hor fun arrives crispy, before turning beautifully smooth and silky as it absorbs the rich eggy gravy. I certainly enjoyed the unique crunch that accompanied my first few bites.
The hor fun comes packed with plump prawns, generous helpings of pork, and shitake mushrooms. If, like me, you hate the hassle of removing prawn shells, you'll definitely appreciate these completely deshelled and exceptionally fresh prawns.
A mug of Home Brewed Lemongrass Tea ($4.80) proved perfect to balance out my savoury meal. This fresh-brewed drink had a heady fragrance and cleansing gingery notes. Lemongrass, as your grandma might put it, is known to be 'cooling' – a refreshing antidote to the Singapore heat.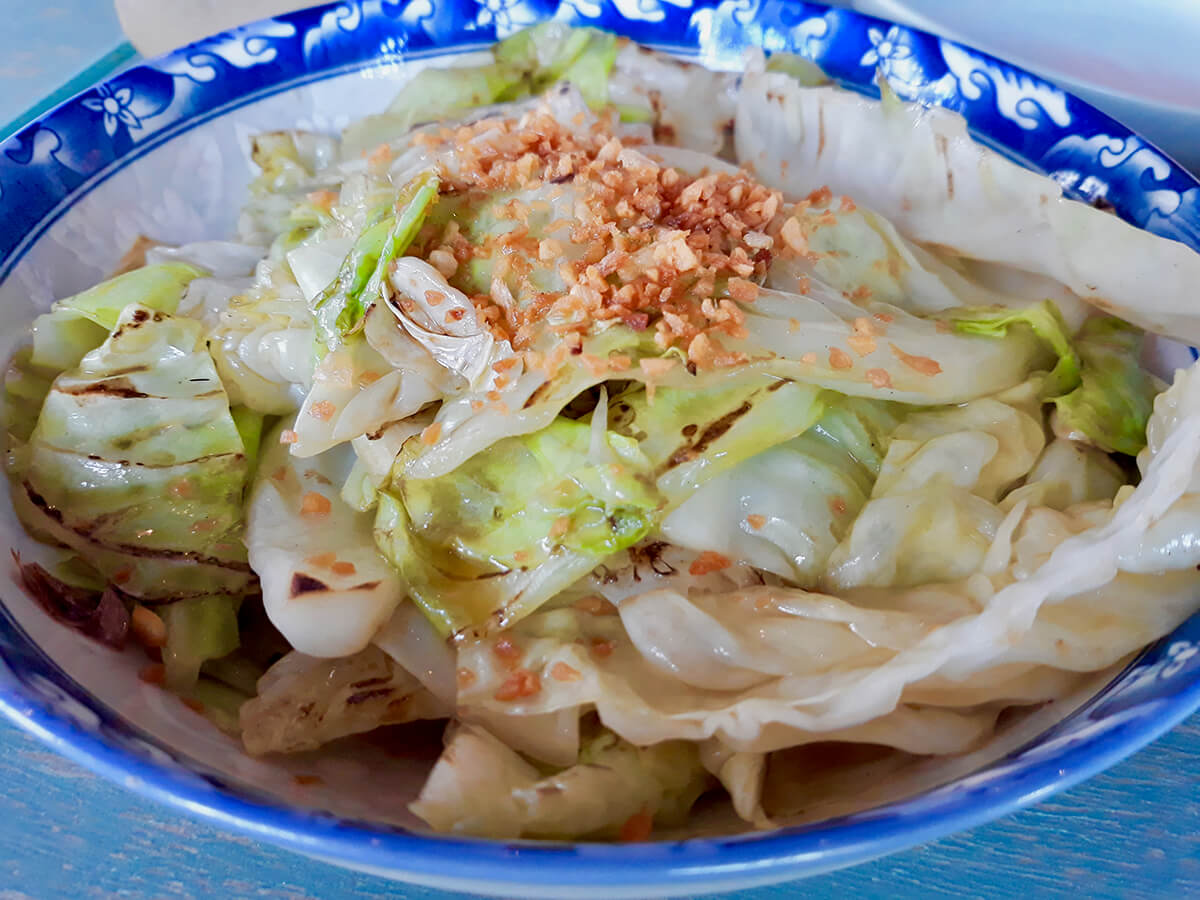 Most of us would pass over a humble cabbage dish when dining out, but Chef Joel's Ugly Cabbage in Fish Sauce ($9.80) is absolutely worth making room for. This simple dish of cabbage leaves, brown around the edges, might seem 'ugly' at first glance.
Looks are deceptive, however – the charred brownness is a sign of its succulent wok hei flavor, enhanced with aromatic fish sauce. Garnished with liberal helpings of deep-fried garlic, each cabbage leaf is a delight to crunch into. I never thought I'd describe any veggie as addictive, but this plate of greens definitely warrants the compliment.
Though you'll likely be full from the dishes' generous portions, don't forget to save space for dessert. The dessert menu features beloved Chinese favourites like Teochew "Orh Ni" ($5.80) and Rockmelon Sago ($6.80). The Chendol Panna Cotta ($6.80) caught my eye – a quirky fusion of Italian and Singaporean desserts.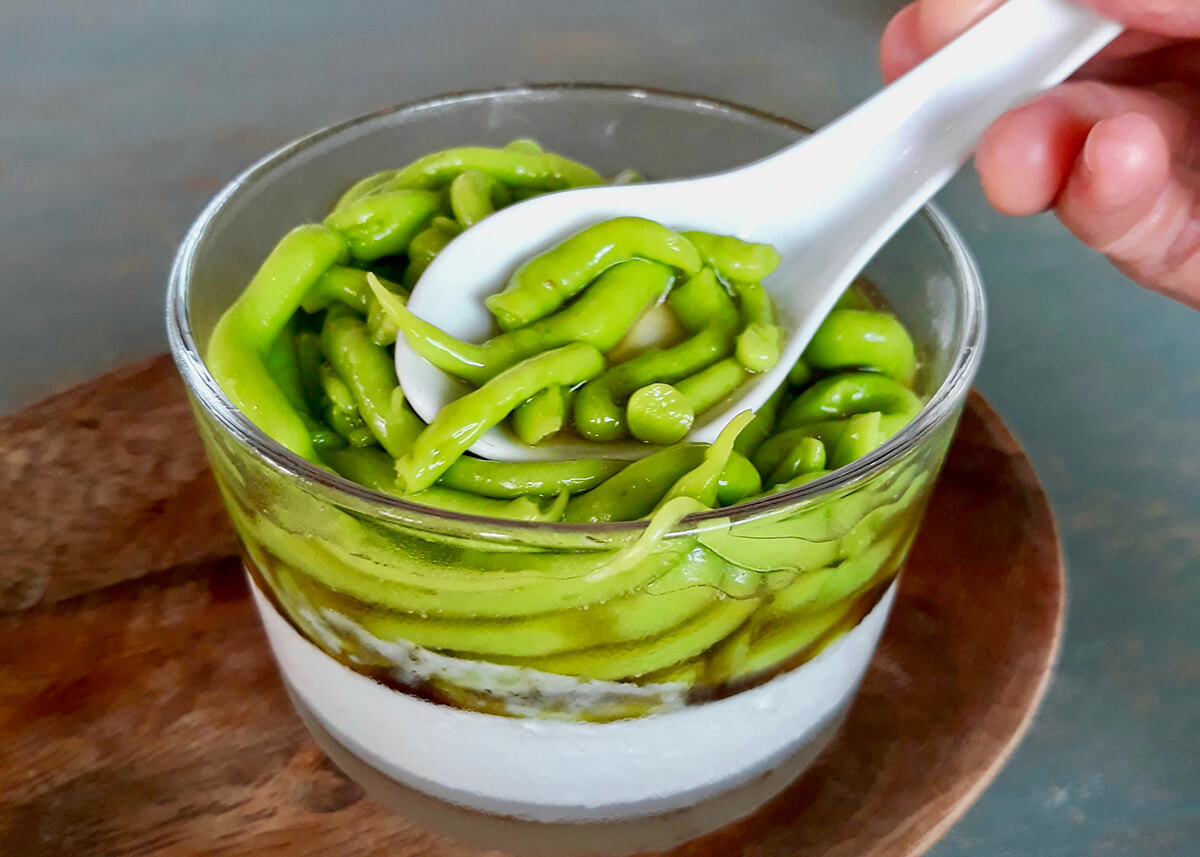 This dessert comprises pandan jelly in gula melaka syrup, atop a layer of coconut cream pudding. Unlike the springy green jelly in normal chendol, this version was softer and had a slightly bitter aftertaste. I liked, however, that the pudding was not too sweet or cloying.
Overall, Enjoy Eating House & Bar delivered an enjoyable experience, both in terms of cuisine and service. Despite there being only one staff member taking orders and serving, she was impressively prompt, efficient and attentive to the patrons' signals. On a busier weekend afternoon, moreover, it took no longer than 15 minutes for my food to arrive. I'll certainly be back to explore the extensive menu of this retro gem!
---
Details
Address:
383 Jln Besar, Kam Leng Hotel, Singapore 209001
Opening Hours:
11am – 1am daily
Website:
https://www.enjoyeating.sg/

Price Range:
$10-$20 per pax
Download the Flex Rewards app to enjoy delectable lunch specials at $7.80+ from Mon to Sun, 11am to 4pm (excluding PH). Offer valid till 15 Nov 2019.