The collective area between One-North, Buona Vista and Kent Ridge is also known as the 'Central Business District of the West'. High rise buildings are situated throughout that area, home to many well-known companies such as P&G, Mediacorp, SEA Group and many others. Each sleek building is given a futuristic name, such as Galaxis, Fusionopolis and Wessex, making that area sound like a mini city from the future.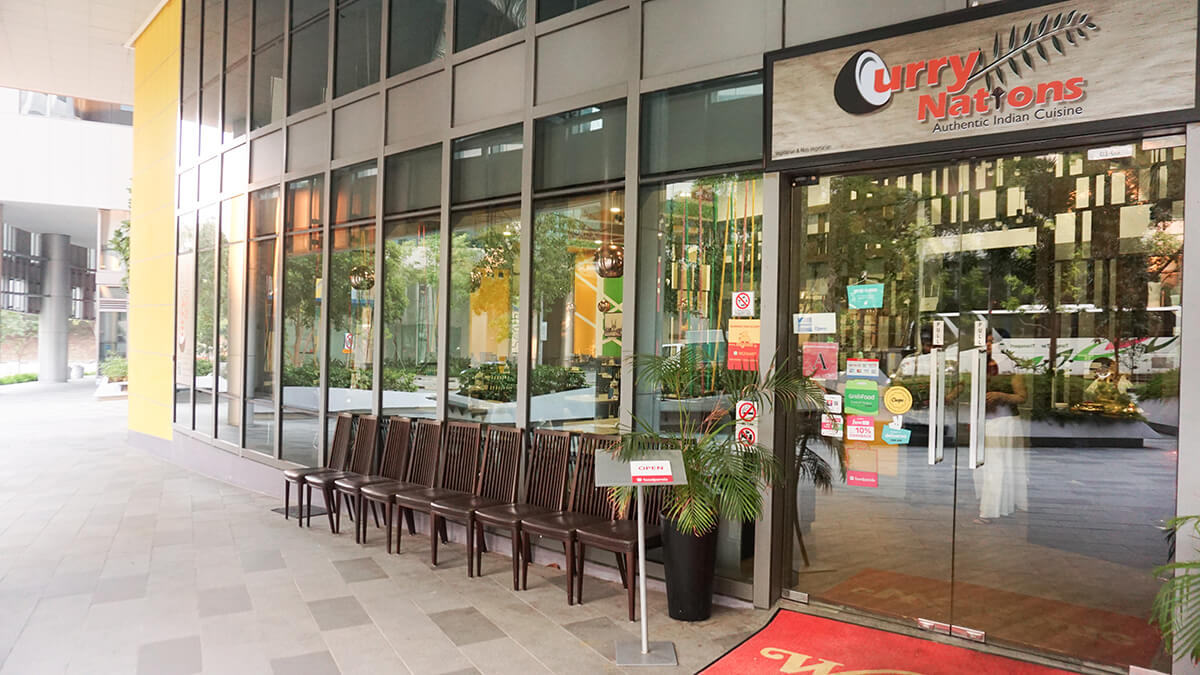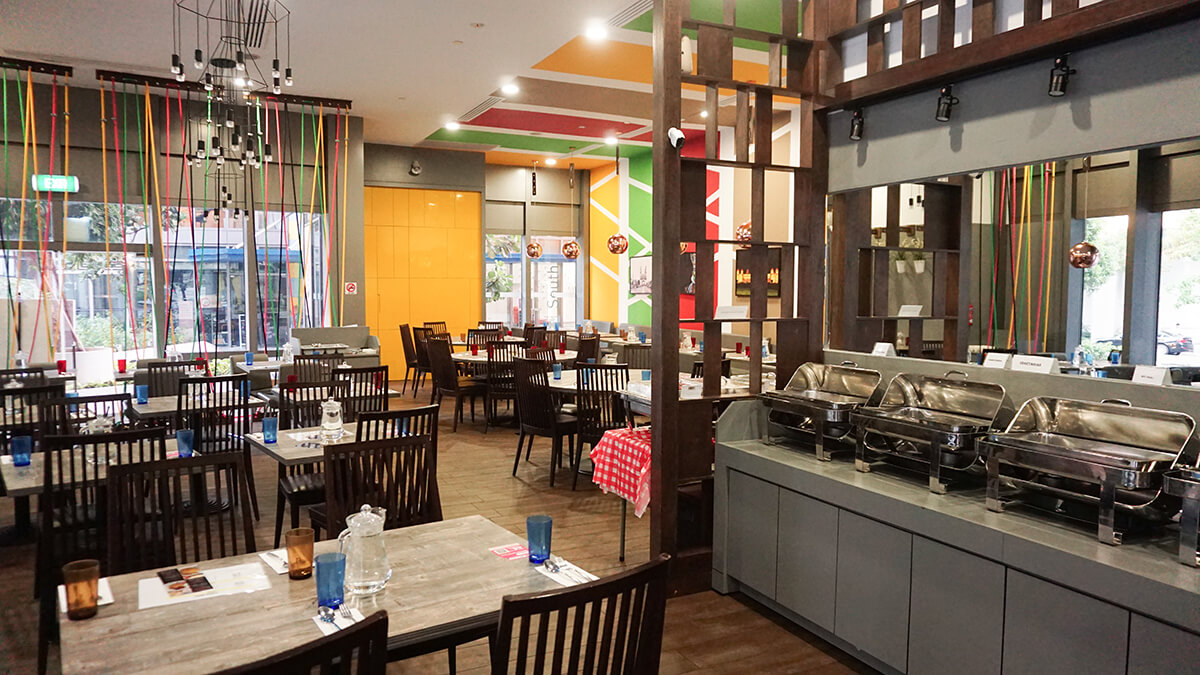 Nestled within Nucleos Building along Biopolis Road is Curry Nations, a quaint seven-month-old restaurant specialising in Indian cuisine. The restaurant is the brainchild of Ms Deepthi and her uncle, Mr Sureshshetty.
For Ms Deepthi, who is in her thirties, she never expected to become a restauranteur. Holding a masters' degree in biotech, she started working in a few laboratories and as a tutor. Soon after, she decided to settle down and have kids. As her kids grew up, she decided to go back into the workforce. At that time, she was approached by her uncle, who is a hotelier in Mumbai, India, who wanted to venture into the Singapore Food and Beverage Industry. Ms Deepthi saw it as an interesting venture and decided to team up with her uncle to open Curry Nations, showcasing the best of both Northern and Southern Indian cuisine. A noteworthy point is that the dishes at Curry Nations are free from MSG, with its flavours and spice deriving from the ingredients themselves!
Although the duo do not do the cooking, the head chef at Curry Nations has had over 40 years of experience in the local F&B scene. With a holistic understanding of the Singaporean palette, the dishes at Curry Nations are tweaked to cater, promising the diner a gastronomical experience here. 
For the unknowing, South Indian foods are usually coconut based and filled with spice, such as chutneys, while the North Indian cuisine revolves around curries and baked breads, such as naans and samosas, and the Malai Kebab ($15), a signature dish here at Curry Nations.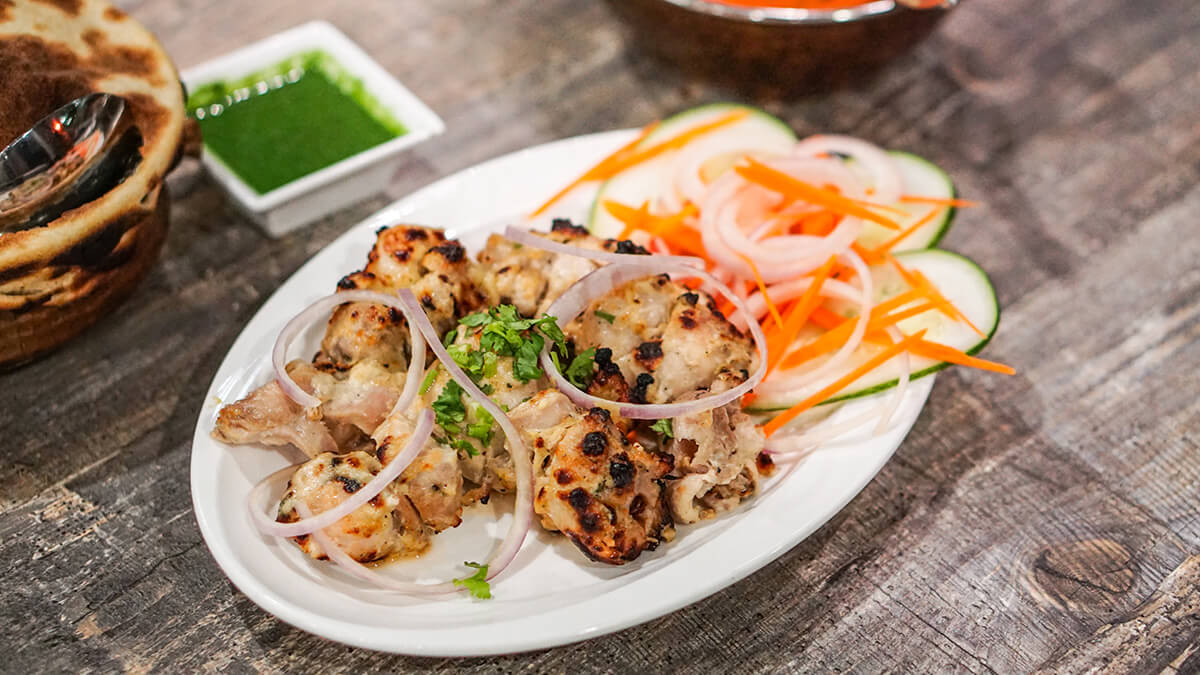 The Malai Kebab is a traditional Indian delicacy of chicken meat coated in yoghurt and spices, before being grilled. At Curry Nations, the kebabs are grilled over a charcoal tandoor, which gives the meat its distinct smoky aroma. Although the chicken might look relatively pale, it packs in a whole lot of spice and flavour. We couldn't taste much tartness from the yoghurt, but the meat was well marinated and garlicky – just the way we liked it!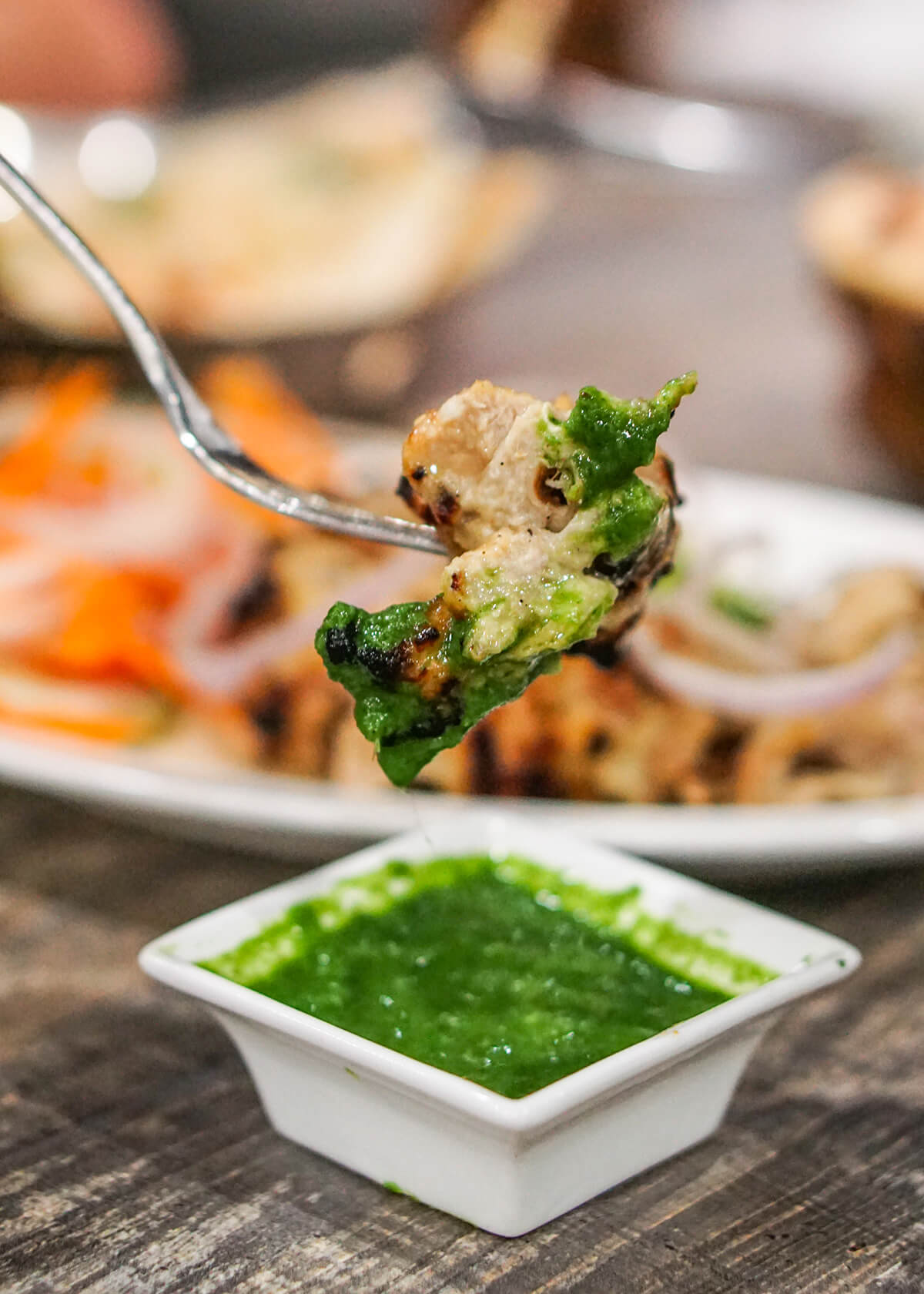 The kebabs were served with a mint chutney, a spicy and cooling dipping concoction containing mint leaves, tamarind, coriander and chilli. The mint chutney went very well with the kebabs, giving it some heat that complements its garlicky aromas.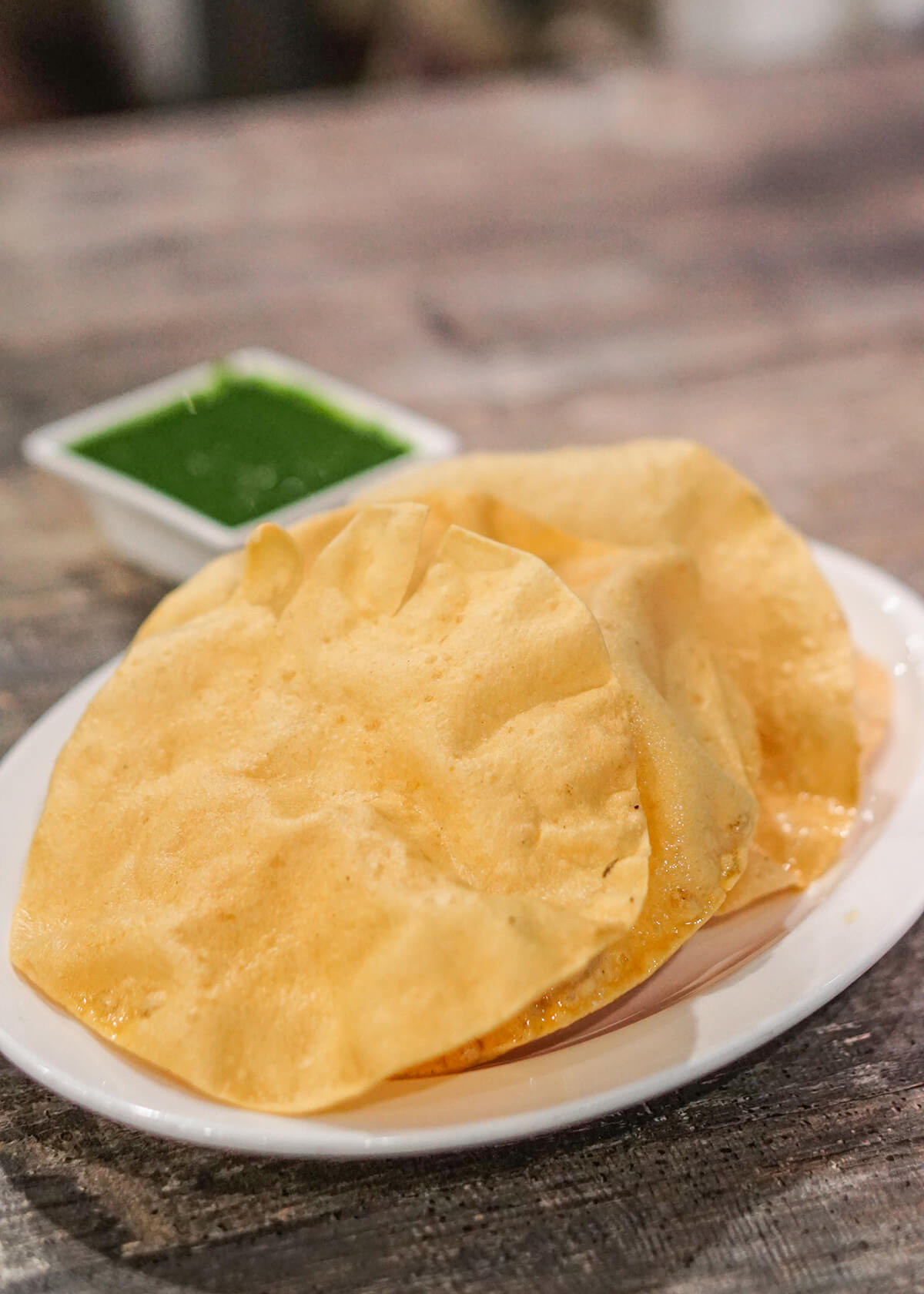 In fact, we had the mint chutney as a side dip with freshly fried papadum too – just a light appetizers before our meal was served.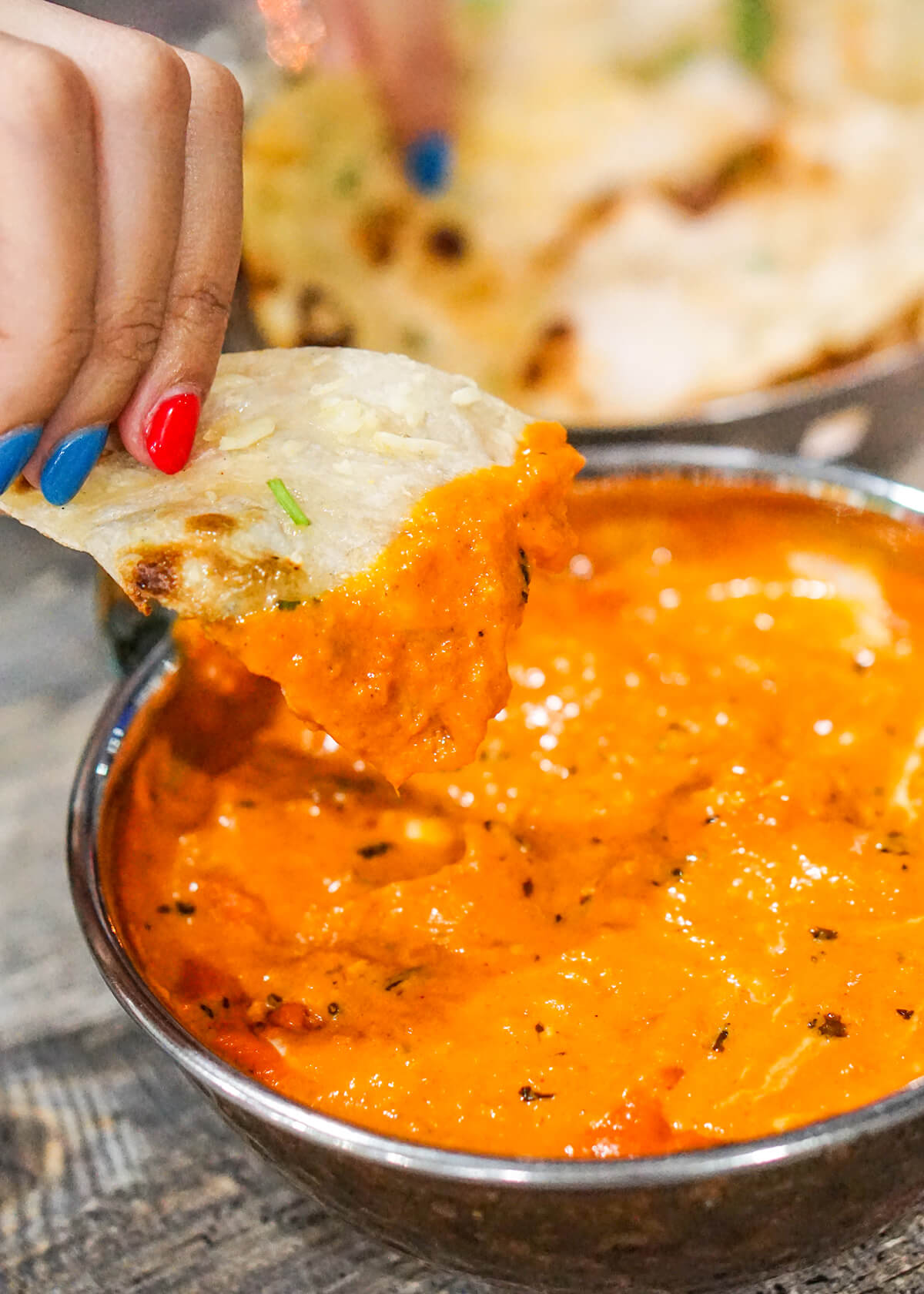 A dish that is well loved among all Singaporeans is Butter Chicken ($14). This rich, sweet and creamy dish comes in an appetizing bright orange colour. It doesn't pack too much spice – making it a great dish for those who are spice-intolerant. 
We dipped our Garlic Naan ($3.50) into the creamy sauce – very similar to the traditional Singaporean style of eating chicken curry while dipping sliced baguettes into the sauce! The Garlic Naan at Curry Nations are all made fresh-to-order – apart from being piping hot when served, there was a glossy sheen of oil coating the naan which made us salivate!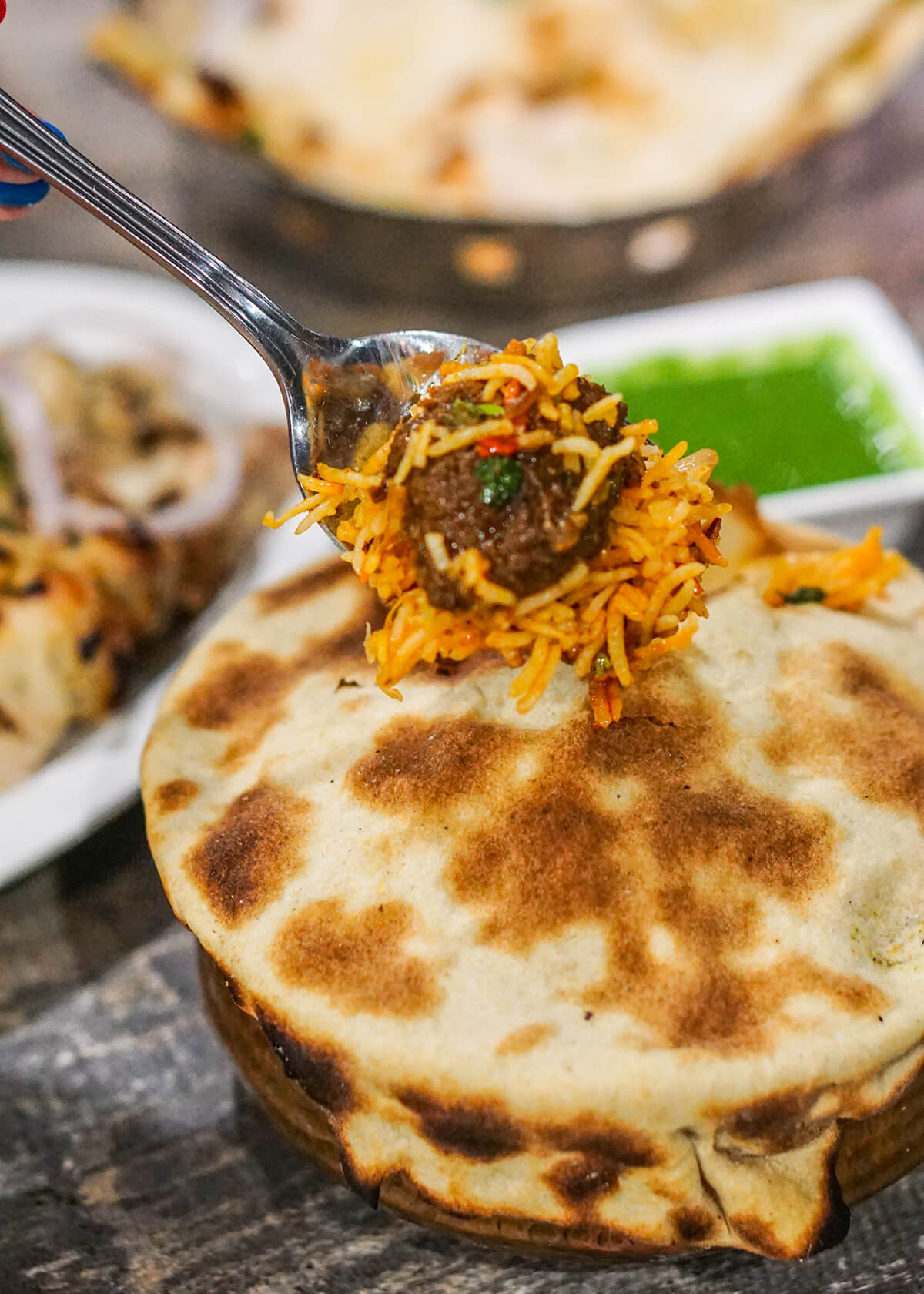 Curry Nations has a very interesting take on the traditional Mutton Dum Biryani ($15) dish. Instead of serving it on a banana leaf, the biryani is served in a pot covered with a piece of naan – similar to how the West have pot pie chicken. Although the biryani lacked in the amount of spice and flavour, the restaurant was very generous with the meat – almost half of the whole pot was filled with tender and succulent chunks of mutton!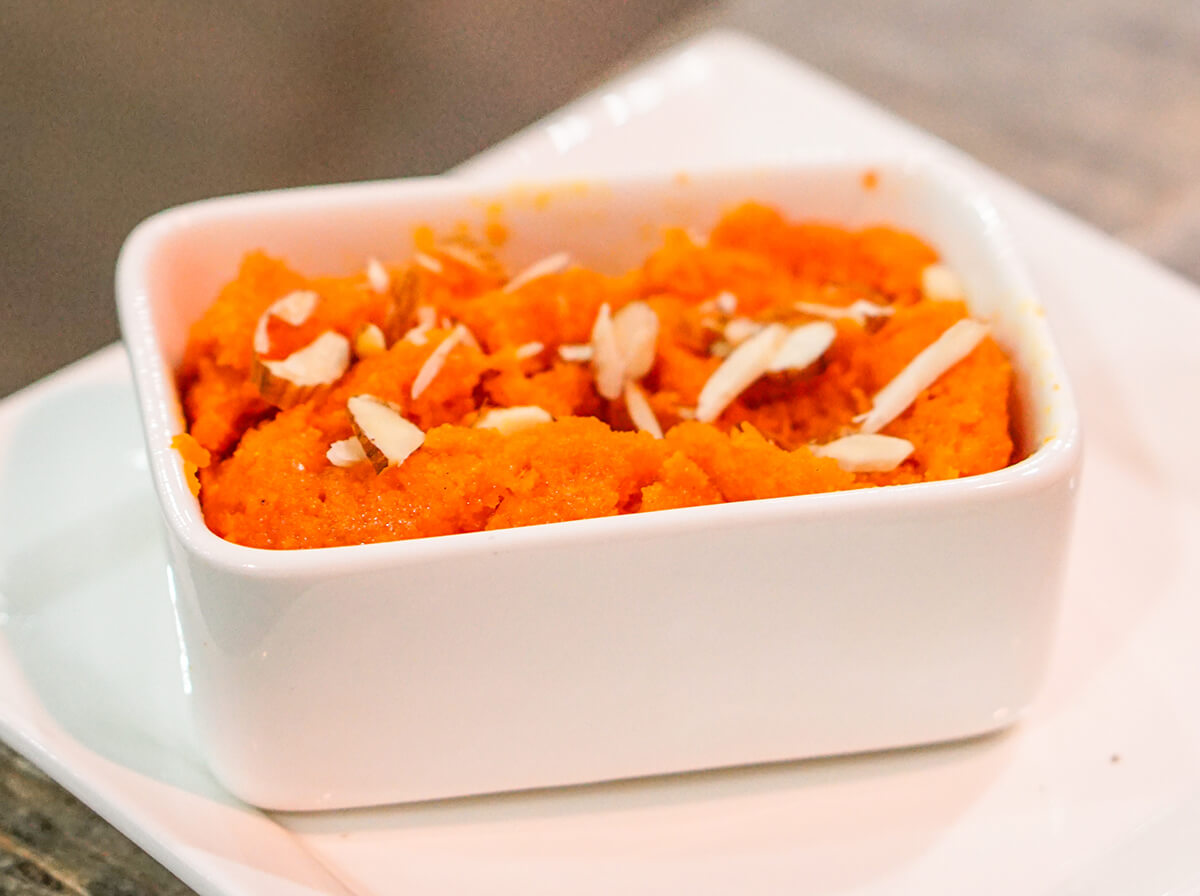 To end off the meal, we had the Gajjar Ka Halwa ($5), a traditional pudding dessert made out of grated carrots, milk, sugar and ghee. The dessert did not look like or had the texture of a pudding – the texture was reminiscent of grated coconut. However, the dessert was warm, sweet and creamy with a slight ginger spice that came as an aftertaste. 
Ms Deepthi shared that the restaurant does get busy during the weekday lunch hour, where most of their customers come for the all-you-can-eat lunch buffet priced at $14.90 nett. Serving up a good variety of both vegetarian and meat dishes, the buffet is definitely a bang for your buck with its very affordable nett pricing. 
Whether you're working in the vicinity or are willing to travel for good Indian food, why not pay Curry Nations a visit?
---
Details
Address:
21 Biopolis Road #01-05, Nucleos, Singapore 138567
Opening Hours:
Sun to Fri 11.30am-10pm, Sat 11.30am-3pm, 5pm-10pm
Website:
www.currynations.com
Price Range:
$15-$30 per pax
Download the Flex Rewards app to enjoy 30% off your entire meal.