Tyrwhitt Road is one of the lesser-known F&B enclaves in Singapore. Along one side of the road lies a large coffee shop that hosts a very good roast meat stall, while the other side of the road is lined with more atas looking restaurants, pubs and cafes, such as The Druggist, which offers a wide variety of craft beers, and Black Fairy Coffee, a great coffee house to feast and lounge about with friends and family.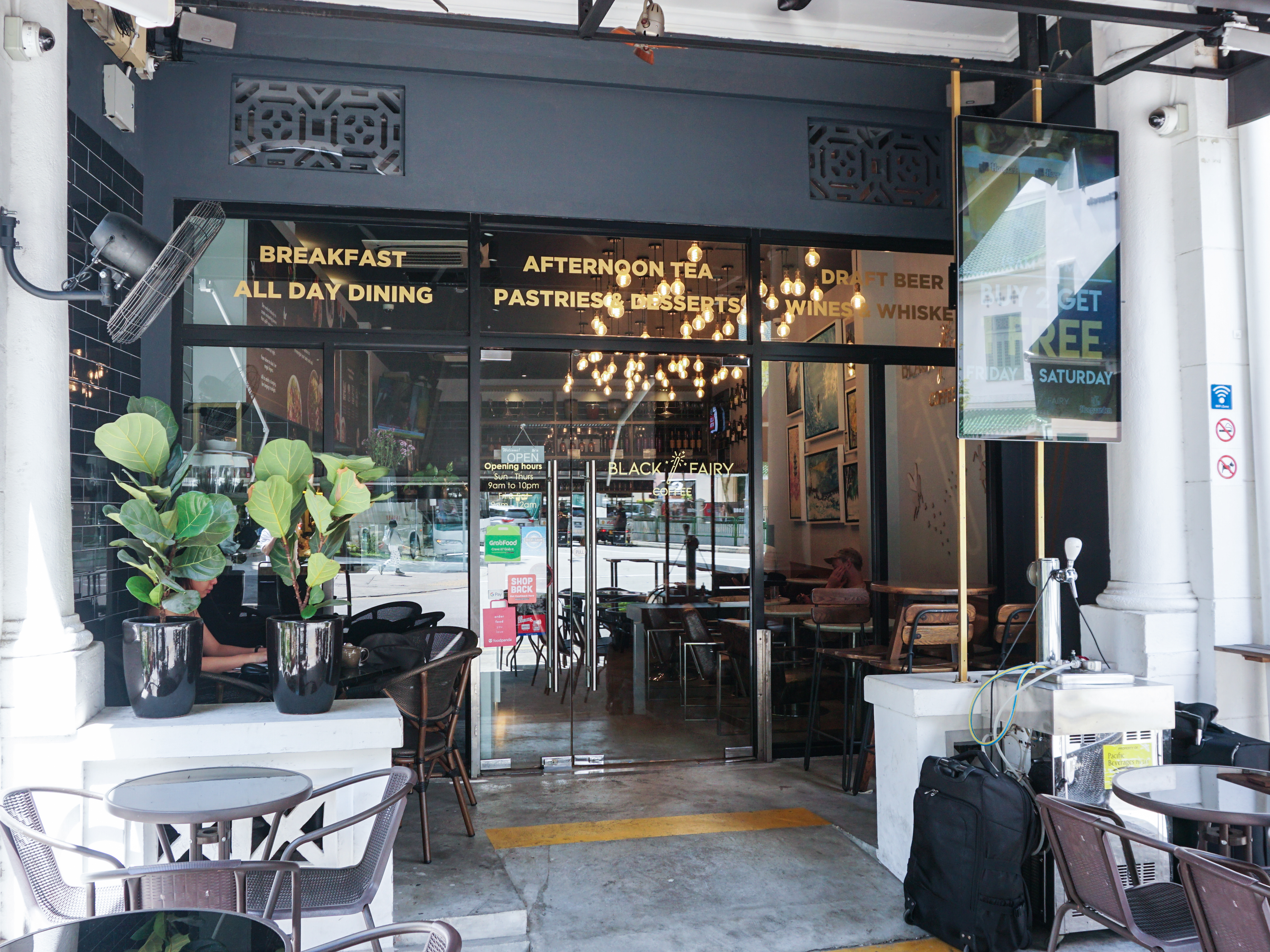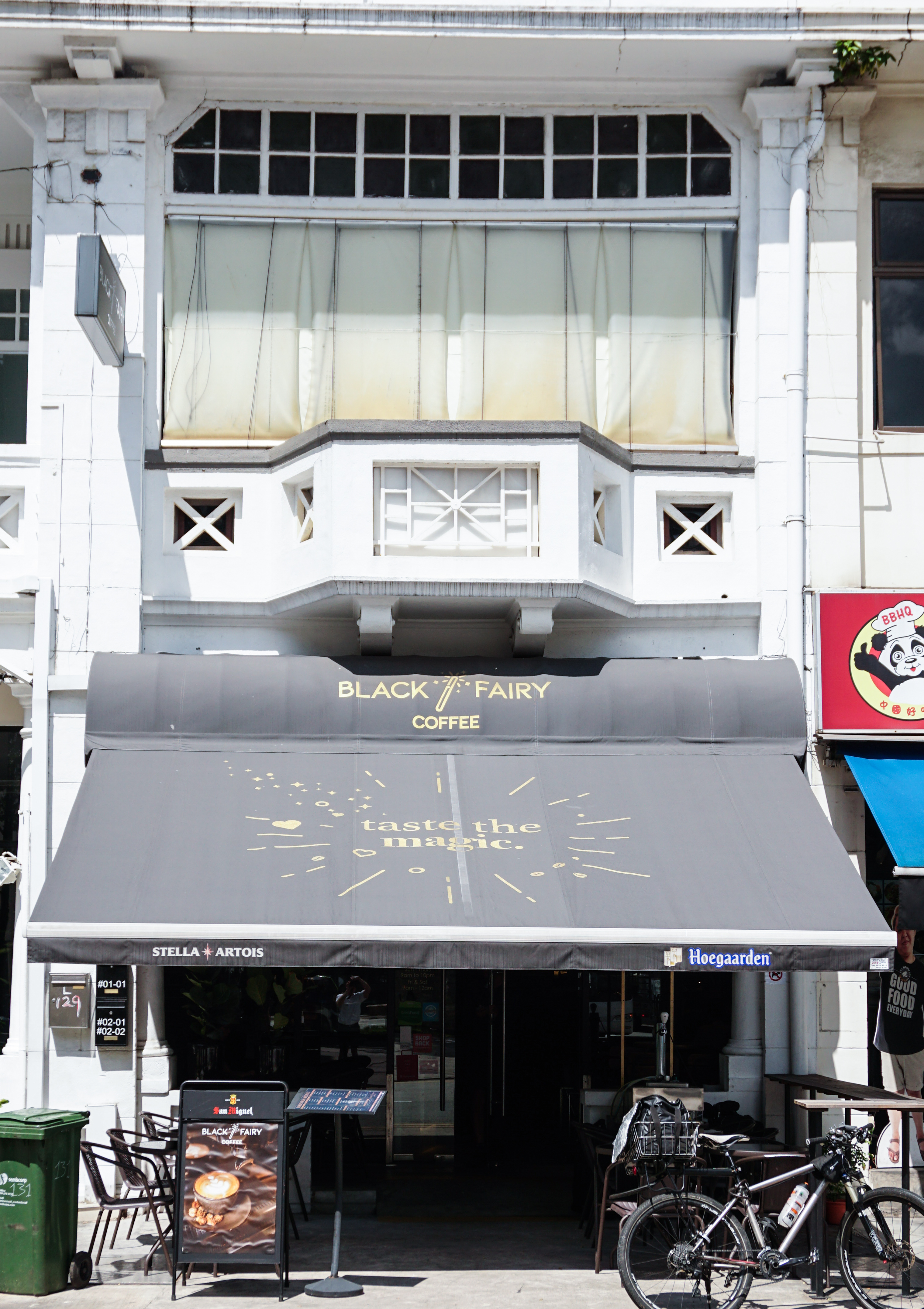 Black Fairy Coffee opened its doors in late 2018. Although its name has a whimsical and magical ring to it, the cafe's interior is nothing taken out of a fantasy story. Instead, the cafe has a modern industrial theme to it, with a nest of light bulbs hanging from the ceiling, and beautiful abstract paintings along its walls.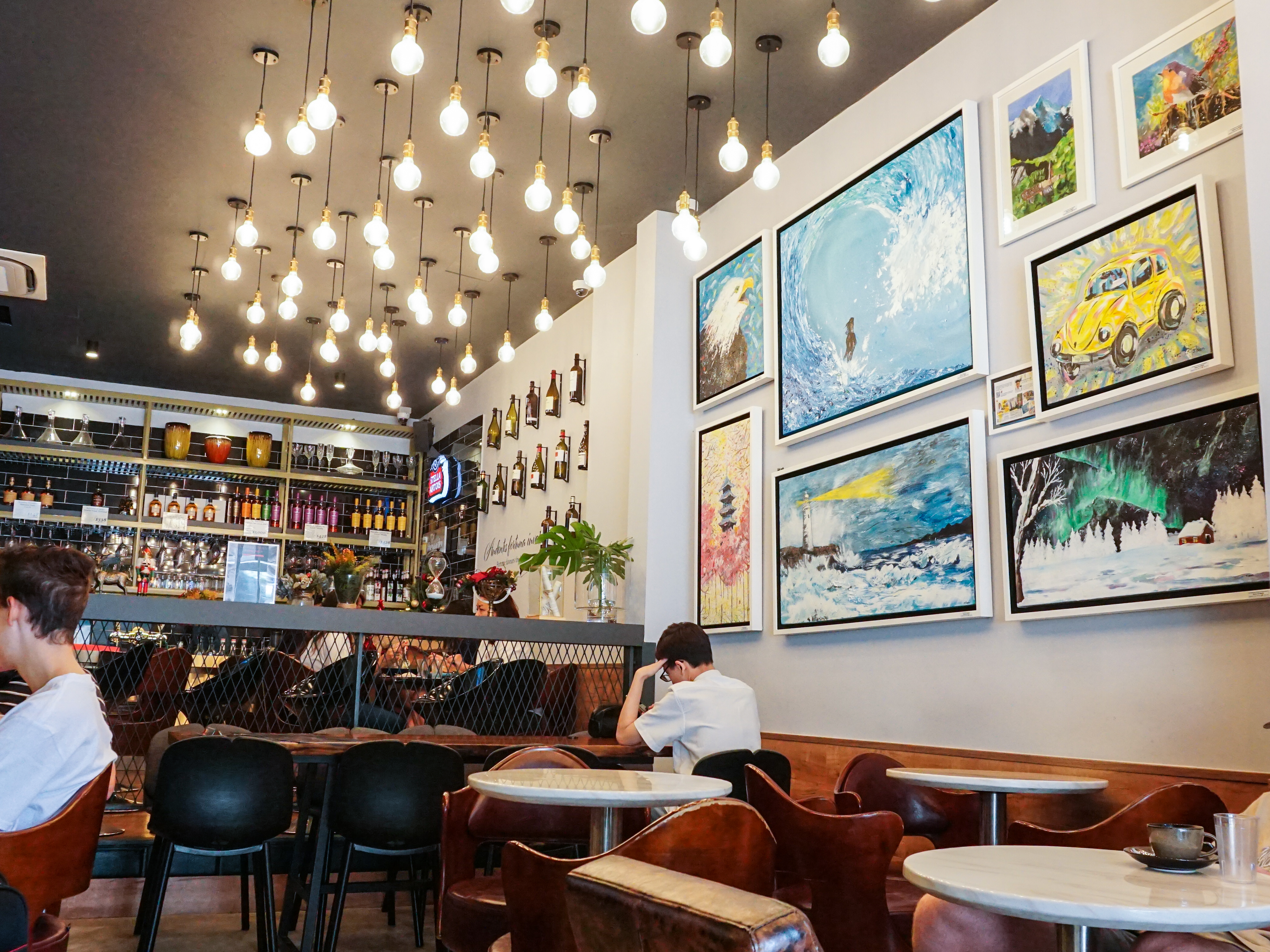 The cafe had a recent menu relaunch, expanding its menu to not only include the usual cafe grub that we are all used to, but other Asian and mod-sin dishes, such as bento boxes and dim sum, to cater to a wider diner palette.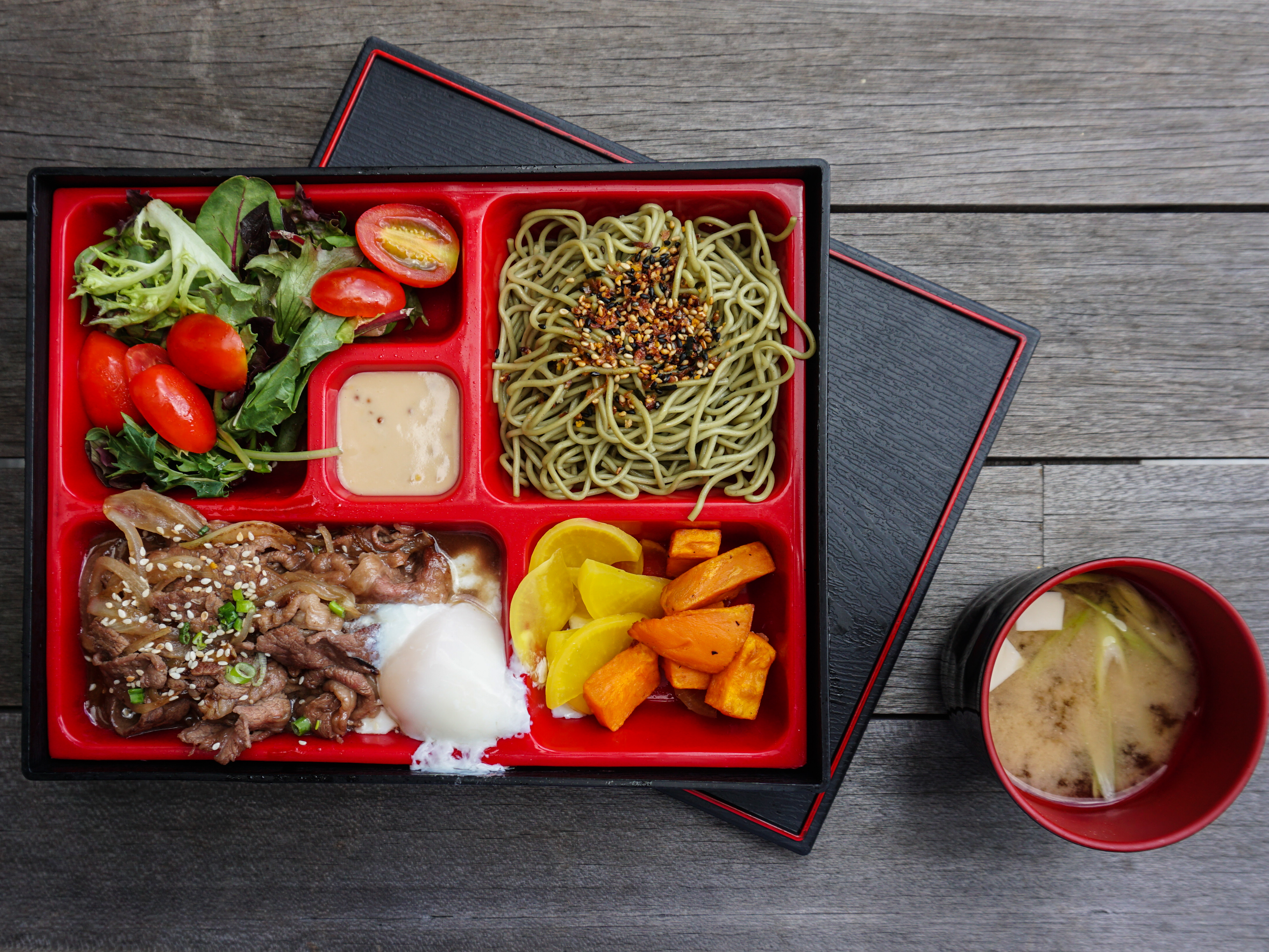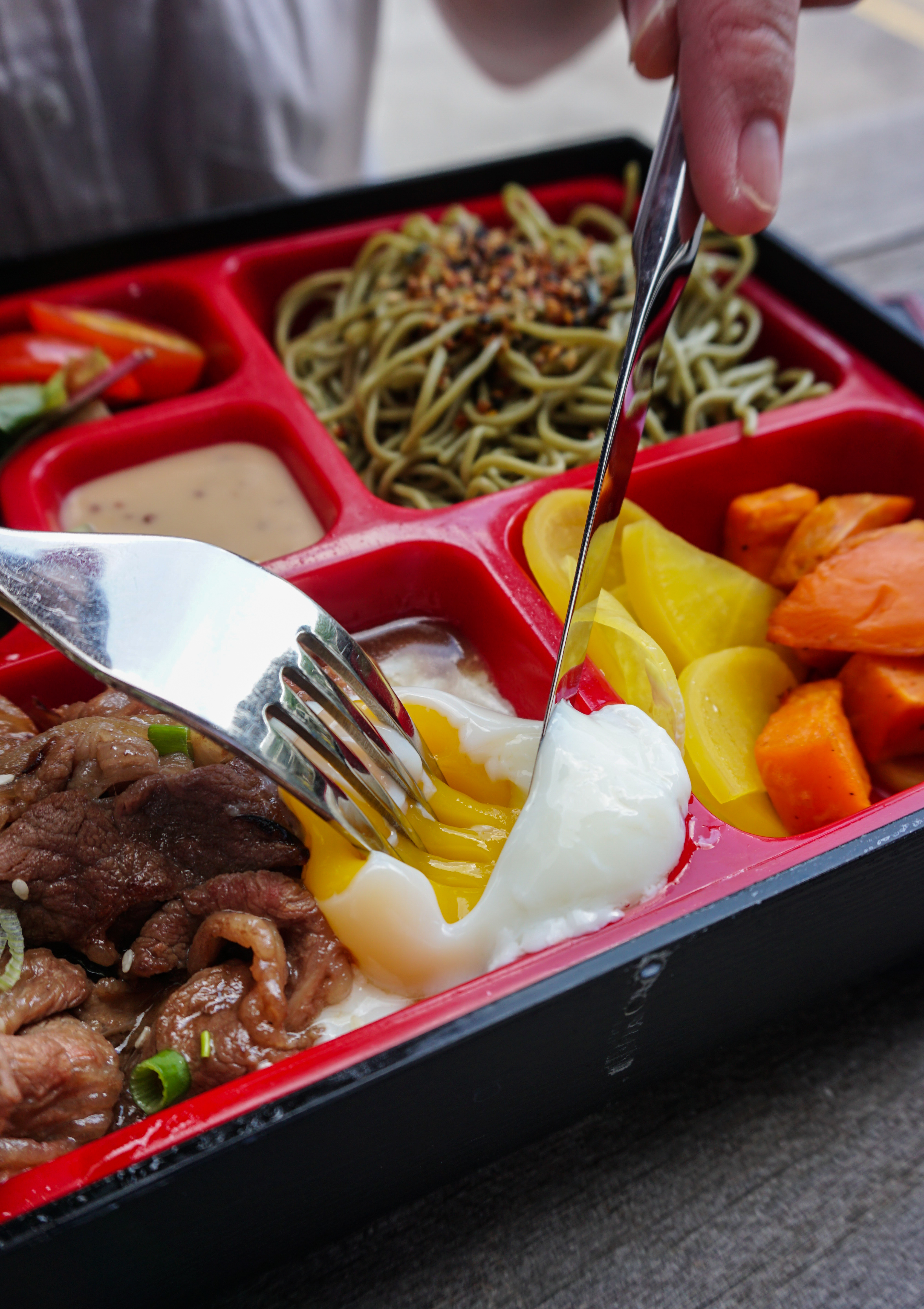 A new category found in the menu would be the Bento boxes, with a choice of either Japanese rice or soba noodles. We tried the Bulgogi Beef ($18.90) version, and were pleasantly surprised. The bento was served just like how you would expect in a posh Japanese restaurant; in the signature black and maroon-red plastic box with different compartments. Who would've known you could get that at a cafe as well! The slices of beef were well-marinated and drenched in the cafe's secret bulgogi sauce, but what blew us away was the aromatic smokiness that evoked from the beef slices with every bite. Served with an onsen egg on the side, diners are highly suggested to break the yolk and coat each slice of beef with it. Although the menu wrote 'soba noodles', we were surprised that the soba noodles did not come with any dipping sauce, and was a little too dry for our liking. Maybe the rice option would be better?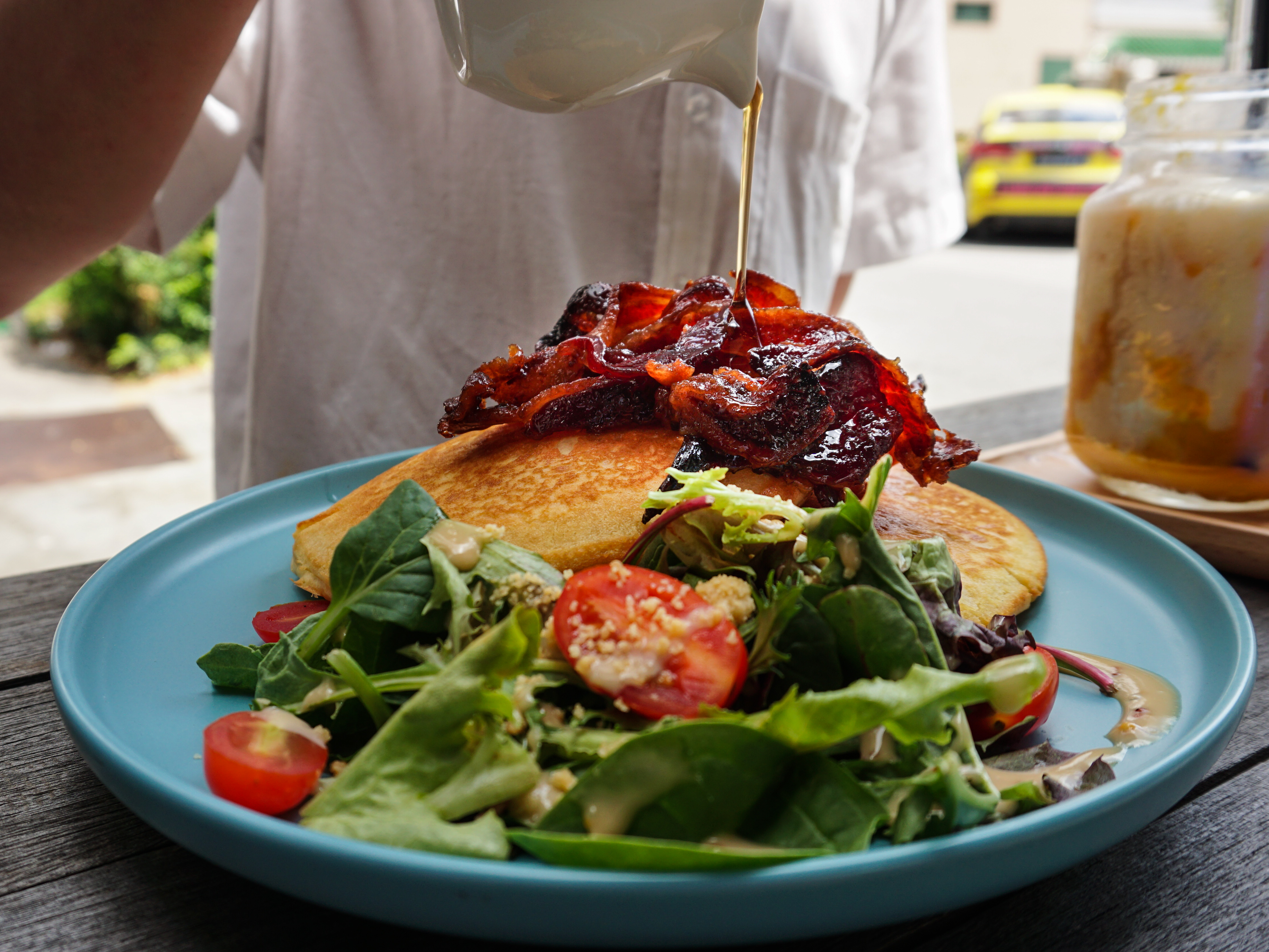 The Pancakes with Candy Bacon ($17) is a cafe purist's answer to cafe grub at Black Fairy Coffee. The homemade candied bacon resembles the likes of our favourite Chinese New Year snack, bak kwa, but a smokier and crunchier version. Essentially a jerky, the candied bacon brings a good mix of sweetness, savouriness and smokiness to the pancakes, which were albeit too dense for our liking. The crunch of the mesclun served on the side did help to cut through the denseness.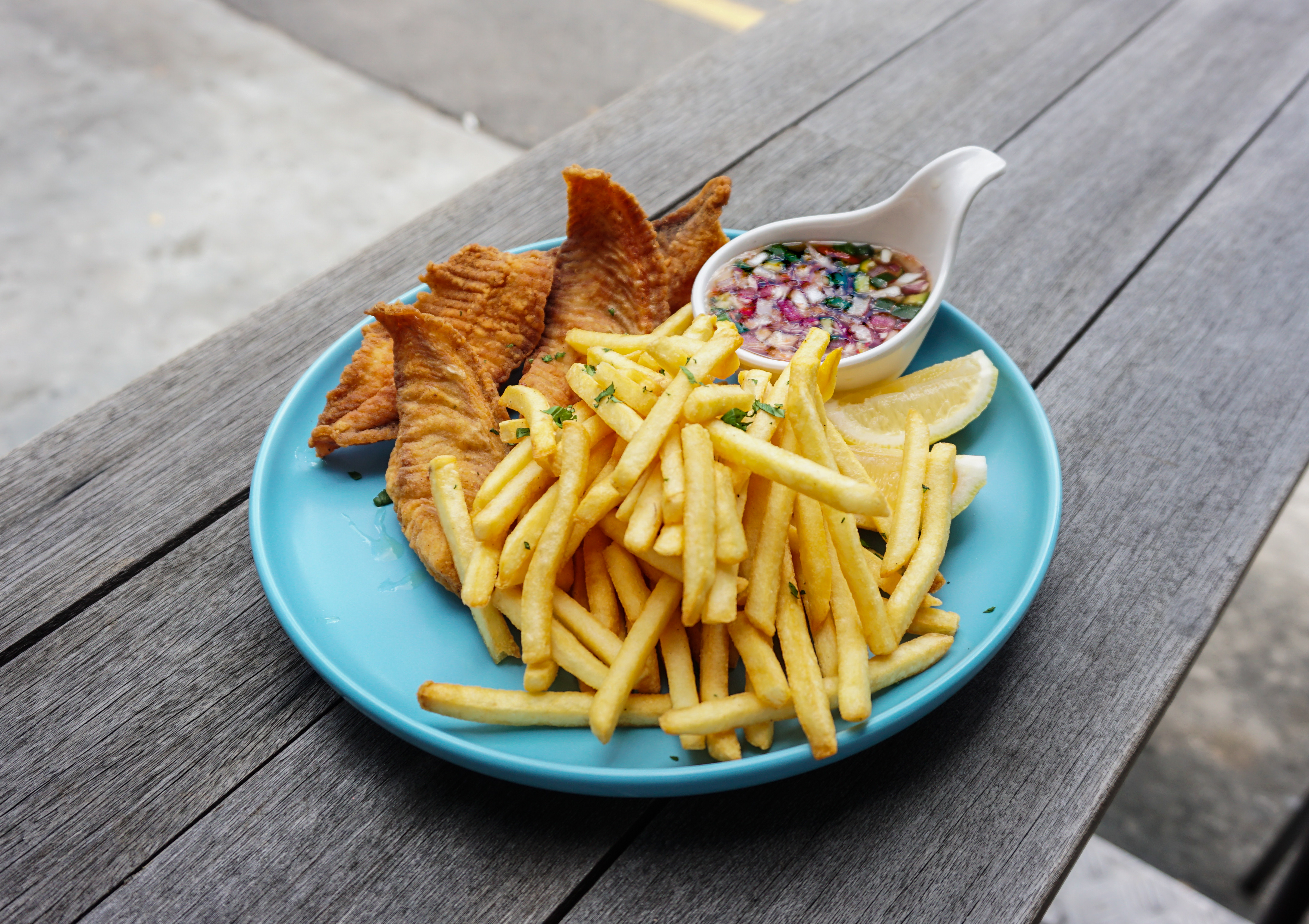 Our favourite of the lot would definitely have to be the Thai-style Fish & Chips ($16). Instead of using standard dory fillets, the cafe gives this classic British dish its rightful Asian twist by using tilapia fillets, battered and fried till a beautiful golden brown. While the fish fillets remain crisp on the outside, the white fish meat is both tender and flaky – basic requirements for a good fried fish fillet. The accompanying shoestring fries were of the most generous portion, but the star of the whole dish would definitely be the Thai-style dip, which replaces regular mayonnaise. The colourful dip is sweet, tart and a little spicy, with little chunks of onion, chilli, cucumbers, and other vegetables swimming about the watery dip. You might be hesitant at first about such a watery dip, but trust us, it's good. It gives the fish fillet a thin coat of flavour which doesn't cause the fish to turn soggy, and allows the natural sweetness of the tilapia to shine through. The dip is so versatile that it goes great with the shoestring fries too!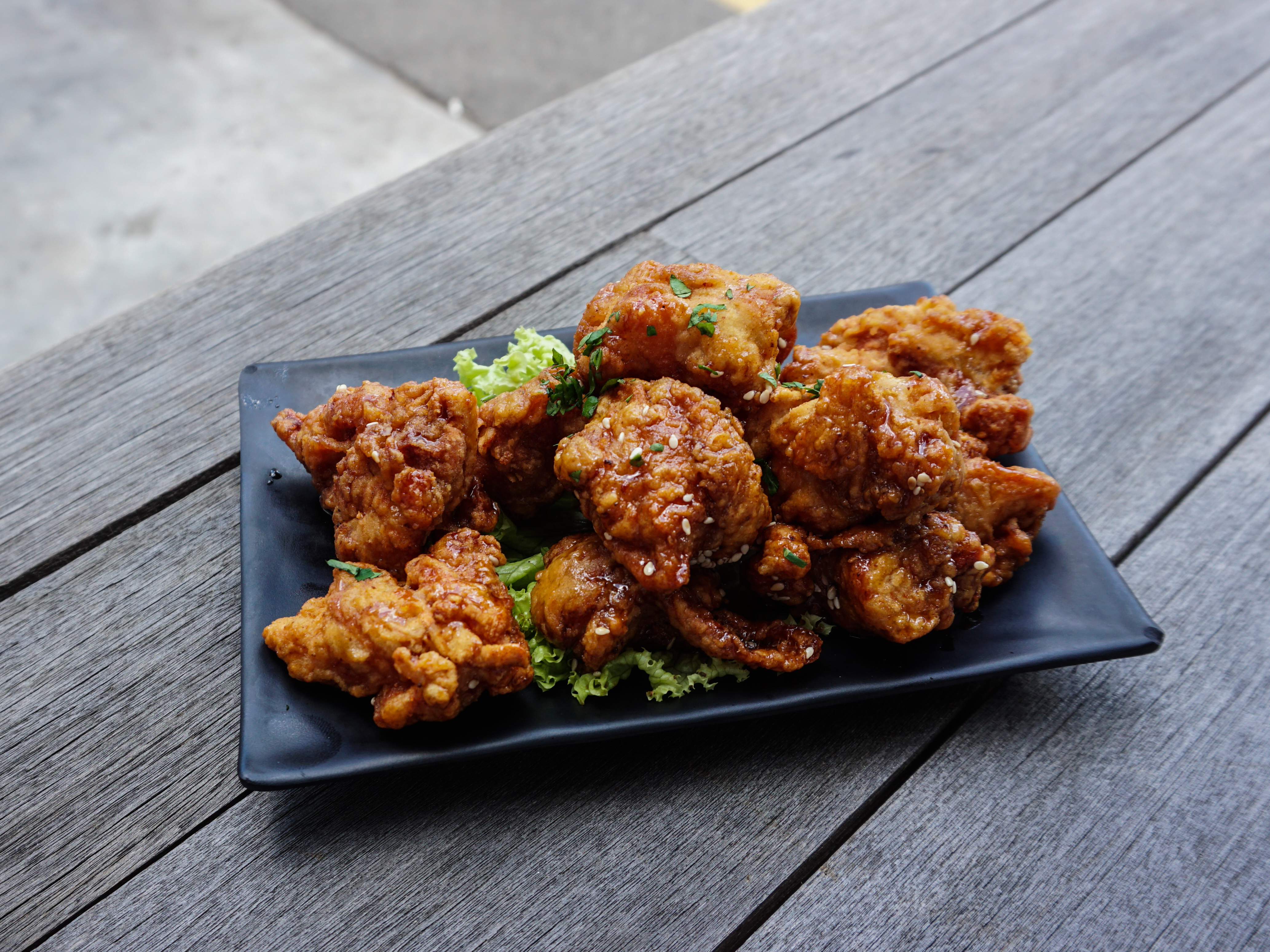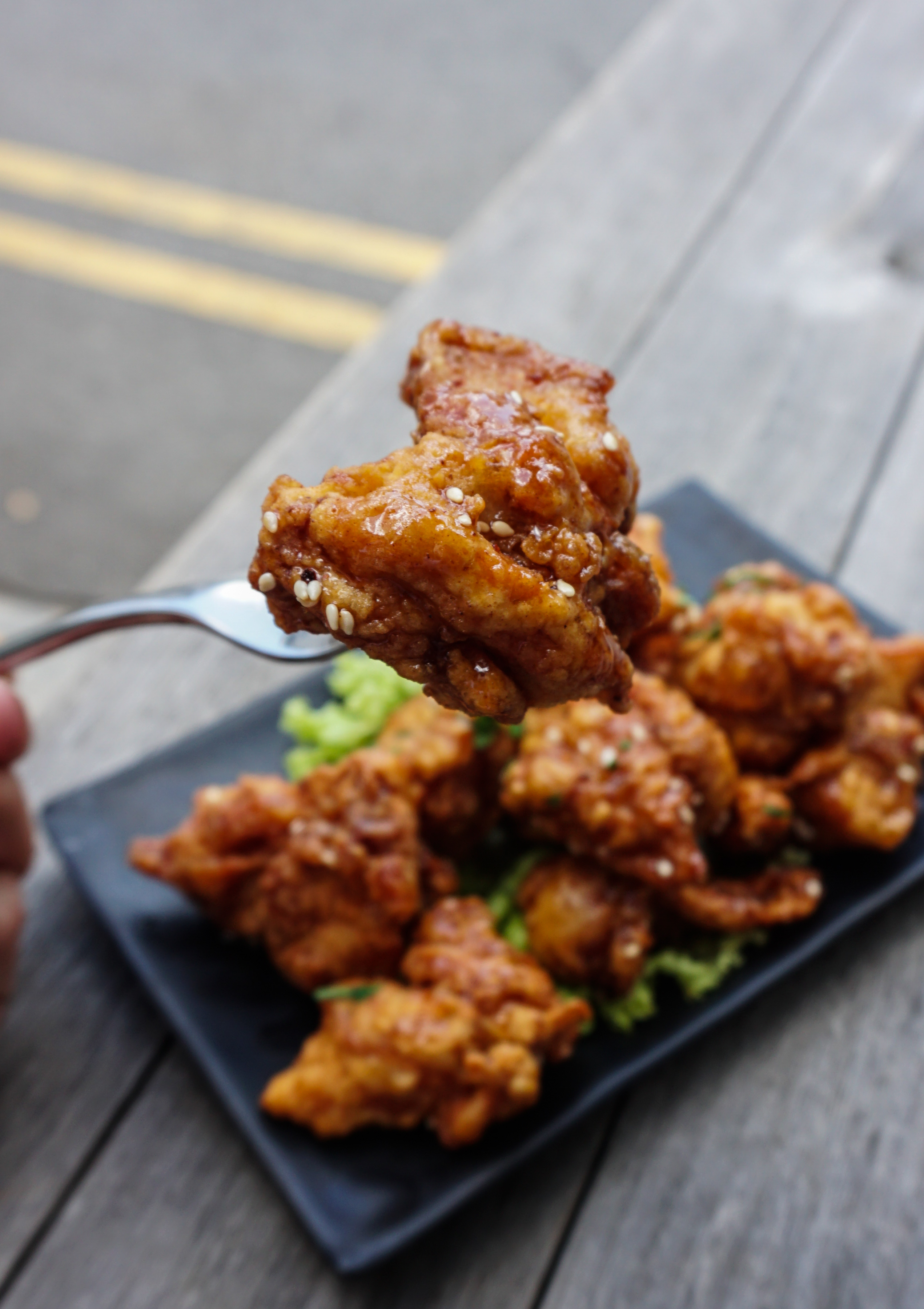 A great side to share would be the Soy Chicken ($14.90). Think of a mishmash between Japanese chicken karaage and Korean fried chicken. Each piece of chicken is crunchy and crispy on the outside, encapsulating juicy and tender chicken meat. The pieces are all tossed in a sweet and savoury soy sauce, giving it a well-balanced taste that whets the appetite!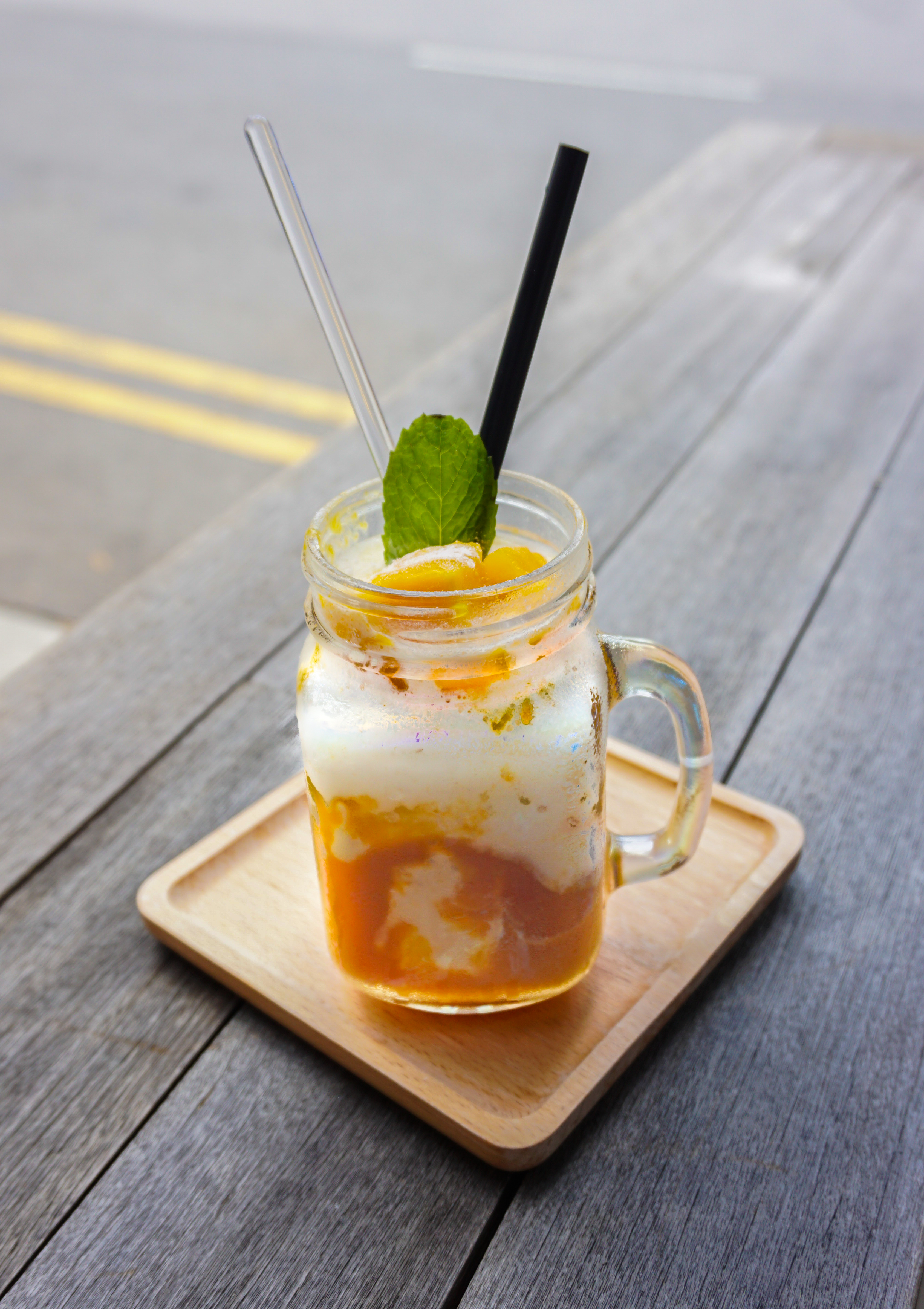 If you think the food menu is large, the drinks menu is comparable. Coffee is seen as art here. Using only 100% arabica beans that are locally roasted, it gives the coffees here its signature full-bodied texture, with hints of chocolate and a mellow nuttiness. If you're looking for something more magical and enchanting, why not get a drink from the Fairy Blends and Fairy Favourites section? Creative names, such as Shrek's Avo Coffee ($8.90) or Cheeky Minion ($8.90) will definitely delight children (or the inner child in you). Also from the Fairy Blends section, the Mango Coco Shake ($8.90) is a refreshing summer drink that everyone is bound to love! This mango puree and coconut water slushie is served with chunks of mango on the top, but what steals the show is definitely its unique iridescent cup, which shines and sparkles when light lands on it.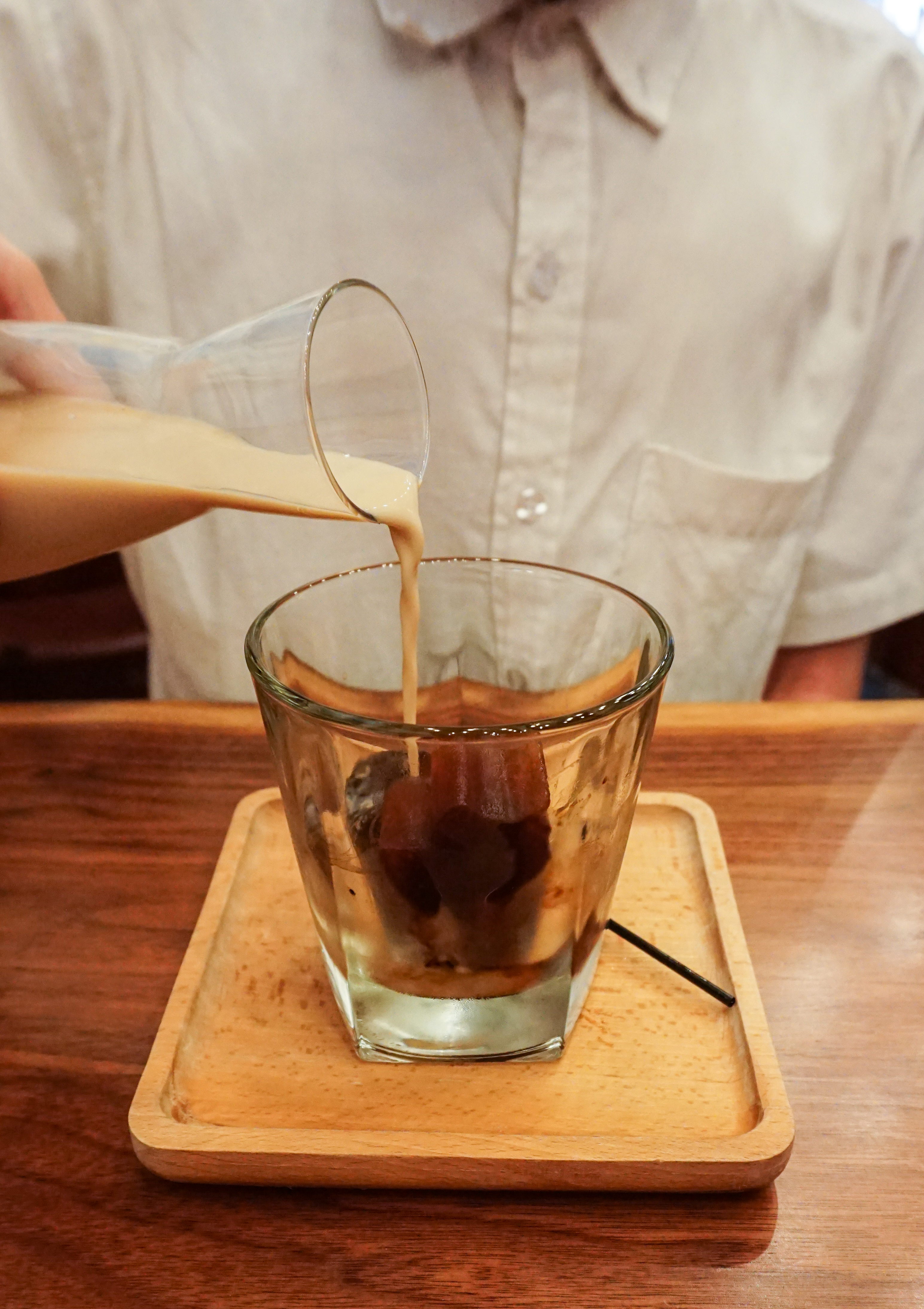 From the Fairy Favourites section, we tried the Witching Hour ($11.90), which was more of a magical experiment than a drink. Concentrated cold brew coffee ice cubes shaped as unicorns are placed in a cup, while the creamy Kahlua and milk mixture is set beside it for diners to DIY and pour the mixture into the unicorn cubes. The result? A refreshing and creamy drink with hints of Kahlua – not too much that'll make you go red, but just nice for a little buzz.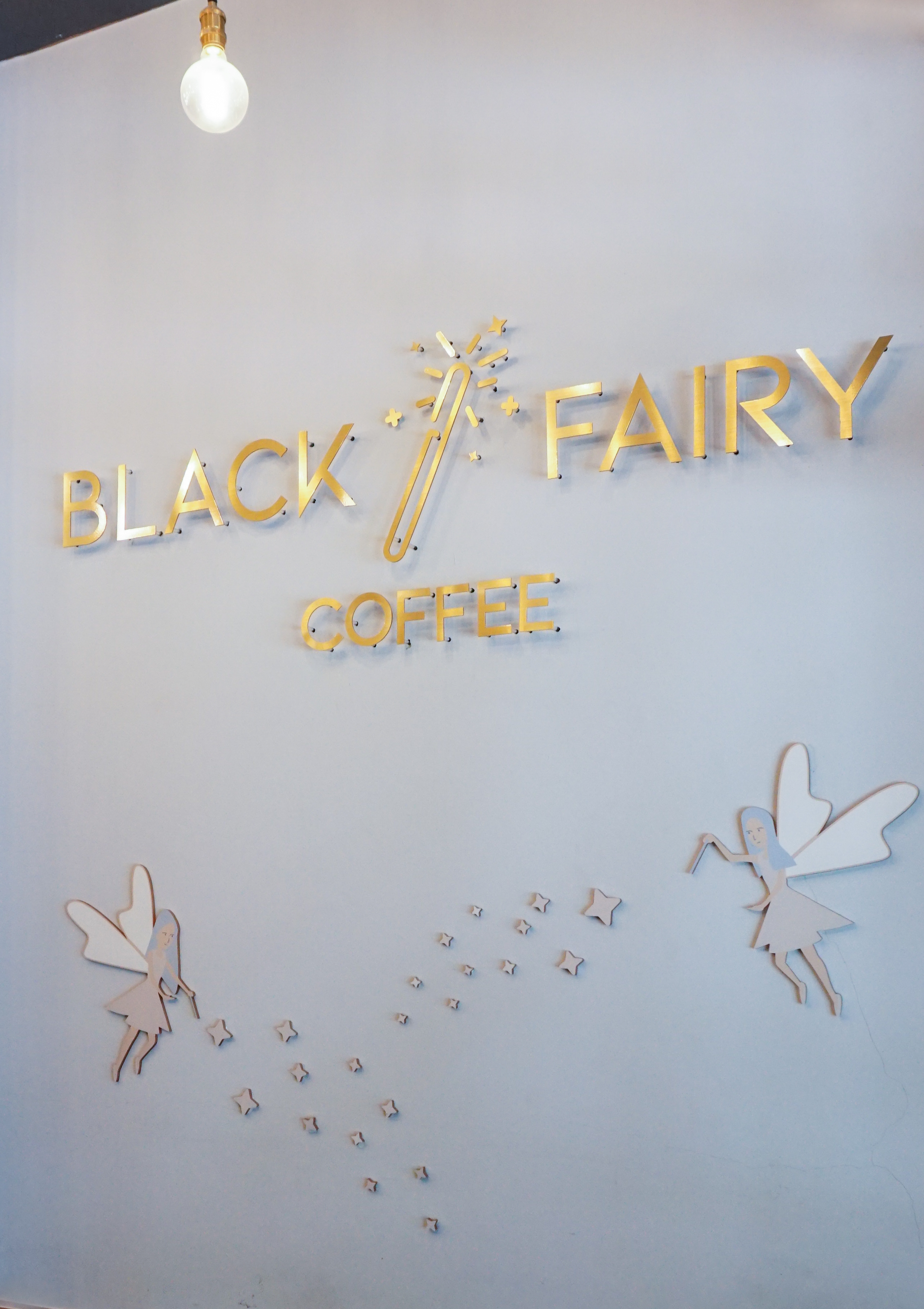 If you've got a big group of friends that can never find a place to settle for food because of everyone's preferences, why not make a visit to Black Fairy Coffee? Whether it's cafe grub or Asian delicacies, there's definitely bound to be something that'll please the whole crowd. Magic or not, Black Fairy Coffee is definitely a place that will enchant diners and sweep them off their feet. 
---
Details
Address:  131 Tyrwhitt Rd, Singapore 207553
Opening Hours: Sunday – Thursday: 9.00am – 10.00pm, Friday – Saturday: 9.00am – 12.00am
Website: https://www.blackfairycoffee.com/
Price Range: $$